MOVIES: Oscar picks and pans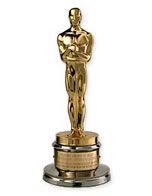 So, how about them
Oscar nominations?
It's a pretty good list this year. Some years, I've seen barely any of the contenders, but this year, I've seen three of the five Best Picture nominees (and "Capote" finally comes here this weekend, and I plan on seeing it then), and several of the other big nominees. There's a definite independent flavor to the Best Picture nominees of
"Brokeback Mountain," "Crash," "Capote," "Munich"
and
"Good Night, And Good Luck."
None of these movies have made more than $60 million at the box office.
Many of the pictures that were touted as "front-runners" last fall proved to be less impressive than their hype. Casualties included "Memoirs of a Geisha," "The Producers," "Rent" and "Cinderella Man."
So here's a look at the top categories and my picks for the winners:
Best Picture
Strong contenders all, but barring a major upset by "Crash," it's
"Brokeback Mountain"
riding home with the gold. Not having seen "Capote," which never came to Roseburg, or "Munich," I'd say "Brokeback Mountain" is the best of the bunch too.
Overlooked:
As always, there's a lot of fine movies that get passed over when there's only five slots, such as "Cinderella Man" or "A History of Violence." But I was particularly bummed to see the great
"Walk The Line"
not make the cut; I think it's the equal of last year's "Ray" as music bio-pics go.
Best Actor
One of the night's tightest contests, it'll go all the way to the finish line with Joaquin Phoenix, Heath Ledger and
Philip Seymour Hoffman
the strongest contenders. I'd give the edge to Hoffman, a widely admired actor who reportedly is amazing in "Capote." And while he's not likely to win, it's great to see Terrence Howard nominated for his fiery, mesmerizing turn in "Hustle & Flow."
Overlooked:
In David Cronenberg's "A History of Violence,"
Viggo Mortensen
plays a man balanced on the line between a bloody past and a hopeful future. It's subtle, fascinating acting, and deserved recognition.
Best Actress
I'm going to go with my gut here and say
Reese Witherspoon
beats out close competitor Felicity Huffman of "Transamerica" for her spunky show of talent as the late June Carter Cash in "Walk The Line." She stole the movie and her win is likely to be the big one "Walk The Line" takes home.
Overlooked:
When you're starring opposite a giant computer-generated ape, it's easy to be overshadowed, but "King Kong" starlet
Naomi Watts
turned in a layered, sympathetic performance that evoked the classic stars of the silent-movie era.
Best Supporting Actor
George Clooney
has gone from the cesspool that was "Batman & Robin" to a triple-Oscar nominee in less than a decade. His nomination here for "Syriana" joins two more for his behind-the-scenes work in "Good Night, And Good Luck." Since I don't think he'll wrest away Best Director from Ang Lee, look for Clooney to win this one as a consolation prize. It's another well-stocked category, but if I had my pick, I'd give it to Matt Dillon for his career-best performance as a racist white cop who discovers a kind of redemption in the chaos of "Crash."
Overlooked:
Call me crazy, but
Mickey Rourke'
s latex-clad, disturbing turn in the bloody "Sin City" as psychopathic killer Marv was one of the year's best acting performances, and worth noting.
Best Supporting Actress
Ahh,
Rachel Weisz.
Come on down. This fine actress has been the bright spot in formulaic blockbusters like "The Mummy" and "Constantine." Her passionate role in "The Constant Gardener" as Ralph Fiennes' murdered activist wife finally gave her the chance to show what she can do.
Overlooked: Scarlett Johansson
may be a blonde bombshell, but the woman can act. Passed over for 2003's "Lost in Translation," she got snubbed again for her praised work in Woody Allen's "Match Point."
Best Director
Ang Lee
lost out in 2001 for "Crouching Tiger, Hidden Dragon," but "Brokeback Mountain" offers him another chance. The Asian director turned in a uniquely all-American tale in his adaptation of Annie Proulx's short story. In another hand, a gay cowboy romance could have been pandering or over-the-top offensive; instead, Lee applies a quiet, restrained eye to a tale of romance that's as universal as "Romeo and Juliet." He's pretty much a sure thing to win this year's honor.
Overlooked: David Cronenberg
has been pigeonholed as a horror director, but his movies are also deft, twinge-inducing examinations of the human condition. "A History of Violence" is one of his best, and Cronenberg deserved a nod for this gripping tale over the well-Oscared "Munich" director Steven Spielberg.