LIFE: New Zealand briefing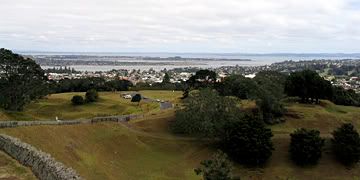 ...We admittedly haven't had the most adventurous first few days down here in
Auckland;
visiting the family mainly and unfortunately it now looks like all three of us caught some minor cold bug between the whiplash travel over the past week between chilly Oregon, snowy California, plague-filled plane and humid Auckland. Peter has had particularly impressive displays of mucus and crankiness what with all the new situations. But we're here and it's fine to be here; tomorrow we hope to head out to the family beach house and next week we're off for a few days to scenic
Napier
on the other side of North Island.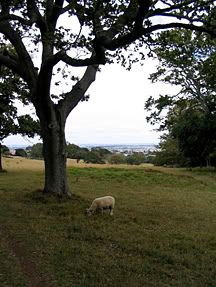 Today we did take a trek over to
One Tree Hill
(which I don't think has anything to do with the American TV series); also known as Maungakiekie, it's actually 'no tree hill' now which is kind of a
long story
. But in any event, it's a big grand park or domain, a volcanic cone looming out of the greenery to overlook all of Auckland. There are several of these domes thorughout the city but this is one of my favorites, an oasis of countryside in the midst of the city. It's a great place to wander, we took little Peter to the gigantic playground there with the grandparents, and I ended up going on a rather steep hike up to the top of the cone, which features a great big obelisk and commanding view of Auckland. I didn't intend to hike all the way up to the top but I was rather swept away by taking photos of the sheep that dot One Tree Hill; I still find it novel to have a herd of grazing sheep wandering about in the middle of a city of 1 million people. And great views from the top. Unfortunately in my haste to head back down I decided to be adventurous and take the mountain goat route, which is at about a 65-degree angle and nearly undid me. Owch.