LIFE: Countdown to Kiwi-town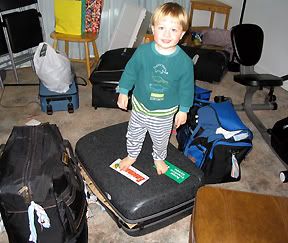 ...We're entering the final packing frenzy as we get ready to depart for
New Zealand
in a week's time for our vacation. We leave Oregon Friday, go stay with my folks for a few days and celebrate Peter's 2nd birthday Saturday, then fly out of San Francisco next Tuesday. Anyway, as the final chaotic preparations and planning begin for 3 weeks or so away, posting likely to slow down to a trickle this week. I do plan on trying to post a couple times from Down Under if I get a chance, tho, so look for special New Zealand-style Spatula Forum updates.
It's been tricky packing as we get ready for the
big migration
this fall. Because we're not investing thousands of dollars in a shipping container (as
previously discussed
), we're cramming as much as we can fit into 6 suitcases and 3 carry-on bags. Keeping vacation clothes to a bare minimum (heck, it'll be summer down under), that means six very heavy suitcases packed to the gills with about 100 CDs, a couple dozen books and photo albums, and about 30 DVDs. Unfortunately, that doesn't scratch the surface of the total Pile o' Nik Crap that is our house. Witness the somewhat full CD rack after emptying a bunch out and selling another 60-80 CDs recently: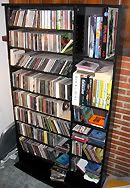 *Sigh*
Anyway, between trying to keep the bags under the 70-lb. weight limit and my abrupt changes of mind ("I must take Elvis Costello's 'King of America' CD to New Zealand! Wait! What am I going to do with our "Simpsons" DVDs? Holy mother of god, I forgot all about our six to seven photo albums!"), there's been an extreme amount of packing and repacking and rearranging, still not entirely done yet with a few days before we leave town. I'm all spazzed out, worrying that I might suddenly discover I really really want to have that one Haruki Murakami novel with me in New Zealand and why o why did I pack that stupid book I'll never ever re-read instead. One thing more, surely I can fit one thing more in the bags! The part of me that is warmed and comforted by my sweet material possessions just hates the idea of them moldering away in storage in California somewhere for years.
Lord only knows if we'll remember things like our passports and tickets. (We will, of course. Avril is obsessive about the lists.) I'm still hoping we can actually cram all this luggage in the car.
And of course Air New Zealand is lowering their weight limits later this year, meaning that we'll only be able to cram 50 lbs. in each suitcase on the final trip over in October or so. Ye gods. We'll be shipping a handful of boxes over via surface mail, but are leery of sending anything extremely too expensive or irreplaceable for a 2-month boat ride.
At times like this, the obsessive-compulsive in us comes out. And he is hungry.