ETC.: Winners and Super Bowls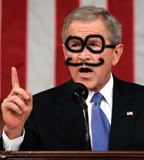 ...So thanks to everyone who entered my little
Write Your Own State of the Union
impromptu contest. I was greatly amused by
all of the entries
, and it was hard to pick a winner from them. I had to disqualify wife Avril, because she's got a compromising relationship with the judge, and ultimately, I ended up picking
Nat,
who tickled my funny bone with her short but sweet entry:
"Kermit the frog has decided to join our nation in the fight against weasel terror. He may look and smell like asparagus, but greatness of leadership burns within his amphibious heart. Our world will be united, with one penguin economy growing stronger every second."
I ask you, how can you go wrong with "weasel terror"? The answer is, you cannot. Anyway, Nat wins a copy of my super-swell
Perfect Songs Mix CD
, which features 15 of the
Perfect Songs
I've been nattering on about so far hereabouts (and three more I haven't even gotten around to writing up yet!).

...Anyway, I'm like pretty much not a
Sports Person
, in case you haven't figured that out from my blogging trends. I watch the
Super Bowl
about every 2-3 years though, just to keep myself looking appropriately manly, and I'll be checking out today's matchup today for a few reason — (1. We've got a
local boy made good
playing for the
Steelers
, safety
Troy Polamalu
; (2. The
Seattle Seahawks
are about the closest Oregon has to a "local" team, so I'll root for them; (3. It's probably the last one I'll see in the U.S. for some time, so I might as well enjoy the beer-and-pizza, commercial-laden tradition one last time. Anyway, I'll cheer for the Seahawks, although in my artsy manner I have to admit it's not mainly because of the skill of their QB or their rushing techniques or whatever, but I've always just thought they had really cool helmet designs.
And this is why I don't blog sports often.