MOVIES: 'Capote' stands tall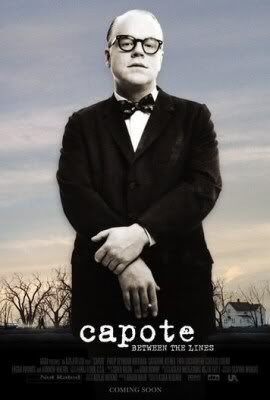 To the people of Kansas, the writer from New York City must have looked like a freak.
Truman Capote
, just over 5 feet tall, slight, effeminate, with a high, lisping voice, had come to town to write about a murder, the awful slaying of a family of four in tiny Holcomb, Kansas. Despite his outsider's ways, he prodded, quizzed and probed the Kansans in search of the story. The result was one of the most acclaimed nonfiction books of the 1960s,
"In Cold Blood."
In the brooding, thought-provoking movie that I finally saw last weekend, "Capote" comes to life again. Nominated for five Academy Awards including Best Picture and Best Actor,
"Capote"
is a powerful look at how far a writer will go in search of a story, anchored by an astounding performance by
Philip Seymour Hoffman
as the late writer.
When the Clutter family is slain, rising young writer Capote spies a small article about it and decides to journey to Kansas with his friend, novelist Harper Lee (Catherine Keener), to cover the case for The New Yorker.
When two drifters are arrested for the awful crime, Capote finds himself drawn closer and closer to the slayings. He plans a pioneering "nonfiction novel" to cover it all. "Capote" raises the question — how much can a writer get involved in a story before it consumes him? Capote's work came at the dawn of our current age of celebrity, and paved the way for nonfiction writers from Tom Wolfe to Rick Bragg. Yet the writer, who was gay, fame-obsessed and eccentric, lived a deeply unhappy life before his death in 1984 at age 59.
Hoffman's performance is one of those rare, utterly transformative acting feats where the actor completely becomes another person, like Jamie Foxx's "Ray" or Daniel Day-Lewis in "My Left Foot." He avoids mimicry, getting at something deeper. When Hoffman first appears on screen, prancing and talking in Capote's high, squeaky voice, he almost appears a bit cartoony. Yet we gradually come to see how much of Capote's flamboyance is a mask, and how his endless role-playing hides a wounded heart. It's a sharp, brutal portrait of a man who's lost his moral compass in pursuit of fame and adulation.
Forming a close bond with murder suspect Perry Smith (played strongly by Clifton Collins Jr.), Capote uses friendship as a way to get dirt for his book. Yet he also can't deny a strange attraction between him and Perry: "It's as if Perry and I grew up in the same house. And one day he went out the back door and I went out the front."
I'm still trying to figure out how they made bulky Hoffman, who's appeared in everything from "Boogie Nights" to "Almost Famous" to this summer's "Mission: Impossible III," look so convincing as the 5-foot-3 Capote. It's a mesmerizing, career-topping performance, and they might as well engrave Hoffman's Best Actor Oscar right now. It's sparked a re-interest in me of "Capote" — I want to go back and re-read "In Cold Blood," and I'm really interested in reading the Gerald Clarke biography of Capote much of the movie is drawn from.
The movie bogs down a little in the midsection, as Miller spends a little too much time on the strange relationship between Capote and Perry Smith. Smith's partner in crime, Dick Hickok, is given short shrift in this adaptation.
First-time feature director and Oscar nominee
Bennett Miller
has applied a crisp, keen eye to this tale of writers and killers. It's a tremendously confident movie, with the huge, empty plains of Kansas swelling on the screen, Capote's towering ego at sea in the fields and vast sky. Miller leaves it to the viewer to decide if the phrase "In Cold Blood" refers to the murders, or the spiraling, self-centered actions of the writer himself.