COMICS: Being Buddy Bradley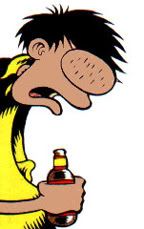 I've been on a kick lately re-reading
Peter Bagge
's classic 1990s comic
"Hate,"
the tale of surly slacker
Buddy Bradley
and his travails. This alt-comic is one of those totems that defined my college and post-college years, and it's been fun revisiting it.
Although Bagge never meant to hop on a trend, he unwittingly did when his comic happened to be set in Seattle with a cast of twenty-something losers and geeks, right around the time grunge broke through. Over 30 issues from roughly 1990-1997, Bagge told the tale of Buddy Bradley grudgingly moving from slacker to man and business-owner. (He still publishes "Hate" Annuals roughly once a year that have caught us up with Buddy - now a father! - but the shorter stories and infrequent publication have kept these tales from being quite as memorable as the heyday of "Hate.")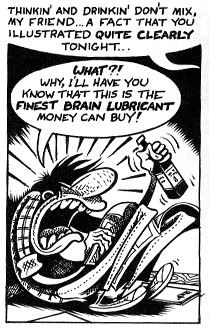 I still get a kick out of Bagge's rubbery, expressive art (nobody quite draws twisted cartoon sex like Peter Bagge). And it's all funny as hell -- Buddy tries to manage a grunge band, Buddy hooks up with a psycho girlfriend, Buddy works in a used bookstore -- but what was interesting to me on a second look is how underneath all the cartoon contortions and sight gags, Bagge is one hell of an author. Buddy Bradley is a cartoon, but he's also a very recognizable, flawed human being, awash in self-loathing, misguided passions and sudden anger. Bagge gets the nutty insanity of relationships between men and women, and captures the ugliness that can erupt in an honest way few writers have. Bagge's art is so exaggerated it's easy to overlook how realistic he is in his characterizations.
The tender heart of "Hate" is Buddy's very screwed-up, very co-dependent relationship with Lisa, who's so messed up she makes Buddy look like Mr. Rogers. As "Hate" wore on, Bagge focused more and more on Buddy and Lisa and less on the cast of madcap sidekicks. Eventually, the series moved from black-and-white to full color and moved from Seattle back to Buddy's hometown in New Jersey to finish out the run. "Hate" purists, myself included, thought at the time these later color issues weren't quite as "hip" as what came before, that the edge was gone, but on re-reading, they hold up really well. Buddy's dysfunctional family comes to the fore and Buddy and Lisa's love life gets even more bizarre. In "Hate," everybody's screwed up somehow, but they still somehow make it to another day.
Fantagraphics recently put out
"Buddy Does Seattle,"
a very cheap, very huge, 300+ page book that collects the entire first 15 issues of "Hate!," the whole black-and-white run from the series' time in Seattle. If you've never read this classic comic, you need to own this. The later color issues are reprinted as well in other volumes, plus Bagge's very first stories about a teenage Buddy and his family are all printed in
"The Bradleys"
collection. Go read 'em and glorify in the losers!