LIFE: Peter is 2!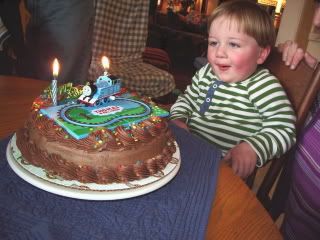 NEVADA CITY, Calif.
-- So the first of the vacation blogposts begins. Hurray for
Peter!
He's having a good second birthday, with lots of car toys and wagons and books to play with, "dandma" and "gandad" to visit with, and a cake that had a train on it. We made it down here to my parents' house in California last night (after a stop in Redding to visit our friends
Rob and Becky
and their kids; gratuitous shout-out and thanks for the dinner!). The 7 1/2-hour drive was perfect, nice clear weather until the final 15 minutes of the drive when it began sleeting. And this is what we found when we woke up this morning: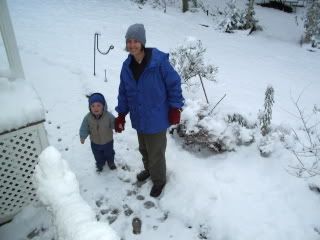 Peter's first actual
snow!
A good 4-5 inches, not enough to shut the town down (it snows often enough in Nevada City in winter for it not to be a total shock, but February is a little late in the year for it) but enough to make everything real purty and white. The sun is now out and skies are blue so it's quite a fine mid-winter day. Hard to imagine we will be in Auckland in a few days where it's been in the 70s, it's the equivalent of August or so down under right now. Season whiplash!
Our little man P is 2 years old today, we can officially no longer call him our baby, which is kind of sad. It's great that he's older now and able to communicate in his pidgin English, but the notion that our cuddly boy is going to one day be gone for good is kind of a hard one to swallow. At least for several years to come we can enjoy his toddler-hood. The "terrible twos" haven't been bad so far; he's generally a good-natured bloke except when he's tired. Hopefully he'll stay that way for a while...