LIFE: Out into Eastern Oregon, part I
...Whew, 937 miles of round-trip driving later, I return! We ventured far into the dusty ragged outlands of
Eastern Oregon
over the weekend for a fine camping trip, and here's a few photos of our journey for you.
I've always wanted to go into Eastern Oregon, but the furthest I've ever been is Bend. The "east side" is the size of about 2/3 of the state, but the vast majority of the state's 4 million people live in a narrow strip of the western state along Interstate 5. The images you have of Oregon being wet, green and leafy don't apply to the east side. East Oregon is big, open and empty, but it's a pretty gorgeous place. I was expecting it to look kind of like most of Nevada does – big, empty hills – but instead it turned out quite different, alternating forests with high plains, massive monoliths and eerie rock formations.
We spent most of our weekend checking out the
John Day Fossil Beds National Monument
, which is 14,000 acres of raw, epic landscape spread out over three separate locations around the wee town of
John Day, Oregon.
It's land that looks like it was cracked open at the hand of giants, with amazing colors, rocks of every shape and size, and a sense it's all barely been disturbed in the last zillion years or so. And because it's so far from everywhere and still early June, it was nearly deserted out there this weekend.
Here's a few photos from some of our weekend trek: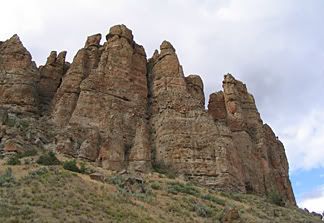 We camped our first night a bit south of the flyspeck town of
Fossil,
Oregon, and Friday night we went out to check out the most remote part of the John Day monument, the
Clarno section
. It's a huge rocky section of eroded palisades cliffs, erupting out of the sagebrush. You can hike right up to the base of them (not the easiest activity carrying a 2 1/2-year-old) and they're as impressive as they look.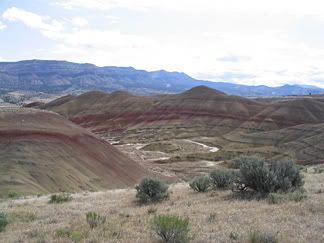 Then on Saturday morning bright and early, we headed out to the
Painted Hills
, about 70 miles south of Fossil along Oregon Hwy. 26. These hills are impossible to capture on film – basically enormous mounds of clay and minerals that are filled with a dazzling array of colors, reds, golds, browns, etc. They range from mountain-size to ten feet tall.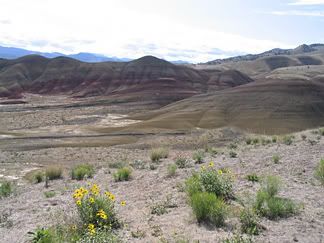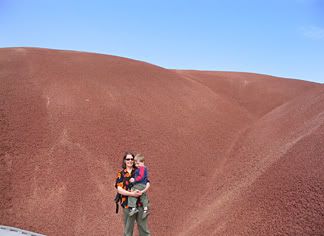 Up close, you get an idea of the shifting colors, which change depending on the angle you look at and the time of day you seen them. Poor Peter really really really wanted to climb on them. Unfortnately this is forbidden, because these hills aren't as sturdy as they seem –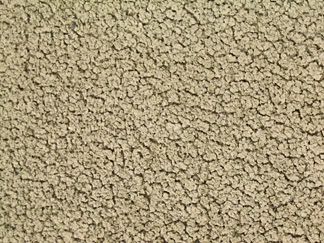 Extreme close-up view! If you look at them they're like crumbling clay, you can pick them apart with a finger. It's almost like they're held together by force of will.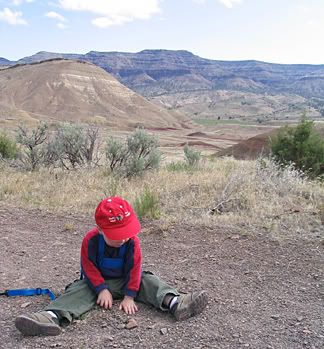 And here's Peter, surrounded by the awesome glory of Eastern Oregon's bounty … and playing with dirt. The toddler mind, ladies and gentlemen.
I don't want to overwhelm with the photos of rocks and hills, so we'll continue our journey to the rest of the monument and through Eastern Oregon tomorrow!