ETC.: Roley, Macs and Dylan again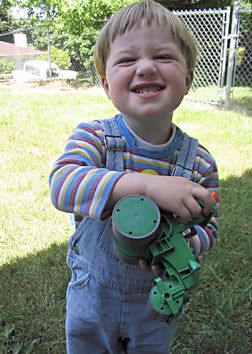 …Yeah, not a lot to say right now. Weather's taken a turn for the better for a few minutes after a couple weeks of rain, so
Peter
has been outside instructing me in the art of throwing dirt and of taking scoops of sand and moving them to one part of the beach and then back again. He's also been happily playing with his beloved new "Roley" the steamroller from
"Bob The Builder,"
his current obsession. He begged us and begged us for a "Roley" after learning there were toys of the show and like the softies we are we got him one when he had a particularly good day. (How can anyone resist this face asking you "Pweez pweez? I be good!")
Peter also told us yesterday, "I not robot, I Peter." Which is always good to know about your kid.
ITEM!
We did order our sexy new
Mac Book computer
last week — hopefully our old iMac will sputter along until it gets here. Thanks to the miracle of Fed Ex, I can tell you that as of 2:37 a.m. this morning it was in
Indianapolis,
fresh from
Anchorage, Alaska,
and before that,
Suzhou, China!
Supposedly we'll get it by Thursday, although I don't see how it will come from Indianapolis to Oregon in that time. More likely Friday. Either way, I'm itching for the shiny new laptop to arrive. Why, I'll be able to blog wireless at last!
ITEM!
Many thanks to reader
Chris
down in
Australia,
who read my
Bob Dylan post
last week and offered to send me a recording of Dylan performing
"Oxford Town"
at that
long-ago show
I attended at Ole Miss in 1990! Apparently, according to those who know, that was perhaps the only time Dylan has performed the song live, and a bootleg of the tune has been making its way around for years. The beauties of the Internet – a guy in Australia can read a post by a guy in Oregon about a concert in Mississippi 16 years ago and actually have a tape of some of it! Anyway, many thanks, Chris, can't wait to hear it!