LIFE: Out into Eastern Oregon, part 2
…Continuing our travelogue of last weekend's Eastern Oregon adventures at the
John Day Fossil Beds National Monument
. We left off Saturday, where we continued our trek east to the final section of the John Day Monument,
Sheep Rock
. They had an excellent visitors center there full of paleontological goodness. Couldn't linger too long with a fidgety toddler who wanted nothing more than to touch all the "dinosaurs," though.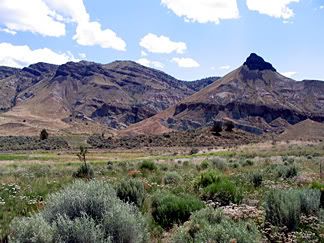 Sheep Rock, right, is a really cool eroded mountain that looks nothing at all like a sheep.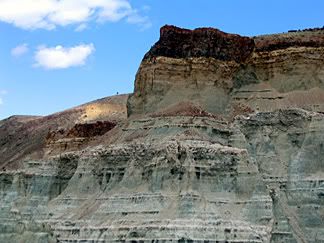 You get some really beautiful close-up views of the rock formations out there. Each layer of rock had a completely different color. Mighty purty.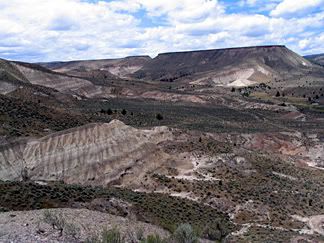 I particularly liked this overlook of much of the monument – the mesas in the background look like they were cleanly sliced off at the hands of some giant's axe, don't they?
We spent the night at a campground near
John Day,
which is a town of about 2,000 people that's the biggest town in a 100-mile radius or so I think. Very podunk but kinda quaint place, it's hard to imagine living so far from any major cities. It makes rural Roseburg feel like downtown Tokyo.
We drove on all the way down south from
John Day
to
Burns
, basically a town-slash-truck stop on Oregon's Highway ... It's a beautiful drive south, across high alpine plains that reminded me somewhat of Alaska. We saw a ton of wildlife in general on this trip – deer, elk, hawks, rabbits, snakes and coyote, plus about a zillion chipmunks. They swarm over the road like dust at some points; you can seem them scurrying out of the way as you hurtle down the empty highways (and it's almost impossible to avoid running over a few of the fuzzballs).
Once you're at Burns, you hit the highway west toward
Bend
. The scenery here is pretty much what I expected all of Eastern Oregon to look like – two-plus hours of this: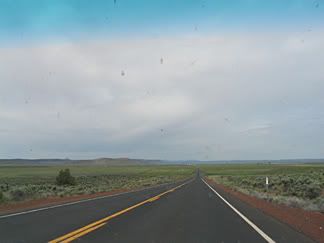 But we stopped in civilized Bend, ate takeout Indian food and basked at their lovely riverside park before taking the final lap homeward. If you look on a map of Oregon, we basically drove in a gigantic loop over the Cascades to the East and back. And how did Peter feel about his 937-mile trek of a weekend?