LIFE: Hot hot hot
Whoo-ee, it's been hot 'round these parts. Temperatures right up around 100 last few days, which is on the "oh my god" side for our corner of Oregon. Fortunately we beat the heat by heading to a local riverside haunt Sunday afternoon (where you can examine the colorful local folk and count their horrible apparently self-applied tattoos). Then Monday, which I had as my day off, we fled to the oh-so-fine Oregon Coast, specifically the Coos Bay area. Amazing how a mere 70-80 miles west, the temperature can be a good 25 to 30 degrees cooler. We hung around the very scenic
Cape Arago
area west of Coos Bay, one of our favorite spots, which has some fine beaches surrounded by rugged rock formations. Here I help Peter develop that incredibly important manly skill of building, and then smashing, sand castles: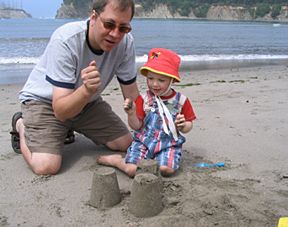 It was strange to realize that just might be our last trip to that particular part of the Coast. At just a hair over two months until we leave Oregon for New Zealand, I'm starting to realize we might just be doing some things "for the last time." I'm really glad we got in our fine
John Day camping trip
a couple weeks ago because that was on my list of things to see before leaving Oregon. But Oregon is an extremely cool place with so many sides, and there's still so much I want to try and do again and only a limited number of free weekends remaining -- we have to visit our favorite coastal haunt of Bandon again, of course, and do the
Eugene Saturday Market
another time or two; by gum we simply must go to the big city of Portland one more time and visit
Powell's
and all that jazz...
And then there's all the things we've NEVER done in Oregon in our 4+ years here and it's starting to look like we won't get a chance. Never really spent much time in Salem, Oregon's capital, or visited the
Oregon Caves National Monument
deep deep in the country past Grants Pass (which doesn't allow kids under 4 in most of the caves). Never made it to the far, far reaches of Oregon like Baker City, Ontario or Hell's Canyon. We've done about 75% of the coast but I always wanted to go to Tillamook and visit the
cheese factory
there. Only been to Corvallis, home of Oregon State University, once, and that was just driving through. Ah well... it's 96,000 square miles of space to see, after all. And who knows, we might well be back someday...