....Spent some of the weekend catching up on various reviews for
BlogCritics
. Go hither and you can read:
• A review of the entertaining memoir
'Becoming Almost Famous: My Back Pages in Music, Writing and Life'
by former
Rolling Stone
editor
Ben Fong-Torres
;
• Watch as I
tie myself in rhetorical knots
trying feverishly to link
Sly and the Family Stone
and the
Stone Roses
in my look at two new books in the fab
33 1/3
music-criticism series;
• Or, alternately, witness as I
give in to '80s cheese-rock
with this …
MUSIC: "The Best of Survivor,"
or, how Nik lost all his street cred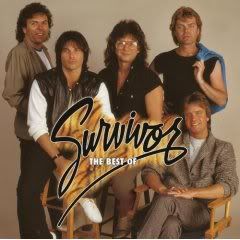 Survivor is one of those bands I'd never put in my personal top 10, but sometime in the summer of 1982 or so, they were the soundtrack of my prepubescent life. The song?
"Eye of the Tiger,"
of course, from the soundtrack for that modern classic,
"Rocky III."
Man, that slashing guitar riff that I'd air-thrash along to as it blasted out of my cassette player, imagining I was Rocky Balboa. I will still listen to it today without irony and bang my balding head repeatedly. It's the kind of chugging riff you just don't hear anymore, and gosh darn it, there's something wrong with that. "Eye of the Tiger" is still a cool song and I'll pull a Clubber Lang on anyone who disagrees.
What's surprising to me is that there're several other guilty-pleasure '80s songs I didn't even really register were also by Survivor, included on their new 12-track collection,
"Best of Survivor."
Mock their Members Only jackets and mullets in the vintage photos included in the CD booklet if you must, but Survivor had their nice little niche in '80s rock. They weren't just the poor man's Journey.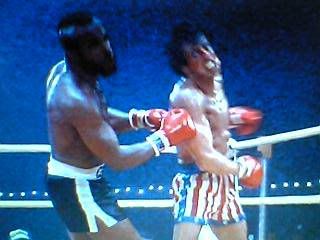 Like many moderately successful '80s bands, there are about a thousand different CD compilations out there for Survivor. This one has all you need for a little retro rocking, including the band's soundtrack hits, "Eye of the Tiger," the
"Karate Kid"
tune
"Moment of Truth,"
and from "
Rocky IV," "Burning Heart."
Yeah, it seems like Survivor was the theme band of choice for mid-1980s rising-against-the-odds sports dramas, huh?
A tune like
"Is This Love"
isn't the world's most sophisticated expression of adoration, with lyrics like
"I need to know that there's someone who cares / Could you be the angel to answer my prayer?"
- yet, y'know, there's something urgent and appealing about it in Survivor's hands. Maybe it's just growing up with the band constantly on the airwaves, but listening to The "Best of Survivor" kinda felt like a homecoming for me. Some of the cheese-rock love songs on "Best Of" haven't dated as well, such as the weepy "Ever Since The World Began." Their best tunes come from the up-tempo rockers.
Curiously, Survivor actually switched vocalists in the middle of their fame. As a fair-weather teen fan at the time, I admit I didn't even realize this. Founding vocalist
Dave Bickler,
voice of the "Eye of the Tiger," had to step down due to vocal problems in 1983, and former Cobra frontman
Jimi Jamison c
ame on board for the band's later 1980s hits
"High On You," "The Search is Over,"
and
"I Can't Hold Back,"
all included here. Jamison is ultimately probably the stronger singer, with a go-for-broke vocal delivery that meshes well with Survivor's driving, straightforward arena rock.
Bickler returned to Survivor in the 1990s for a time, but Jamison was also still in play. Wouldn't you know it, the two dueling vocalists eventually led to two bands calling themselves "Survivor" out there, lawsuits and more. It was all settled and Survivor is still out there somewhere today, with Jamison on lead vocals. Their first new studio album in 18 (!) years, "Reach," just came out. What I like about Survivor is that they never pretended to be anything other than what they were — a blue-collar, rockin' 1980s band. Jamison's
Web site
biography notes, "He'll have your grandmother onstage singing 'Eye Of The Tiger' or he'll hold your toddler while he's singing 'High On You.'"
God love him. Would Bruce Springsteen do that?