MUSIC: My 15 minutes with Alice Cooper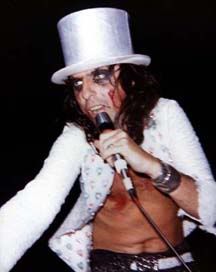 …So had that nice little chat with
Alice Cooper
yesterday. He's coming to the world-famous
Douglas County Fair
in a couple weeks and I'm doing an advance piece on it. A good conversation, I didn't fumble around as much as I sometimes do in interviews (best tip I ever learned about interviewing people – shut up and
let them talk
). The high priest of 'shock rock' is actually quite a nice guy, with a zillion stories to tell.
I bashfully admit (although not when I was talking to him of course) that I never had been a huge Alice Cooper fan – sure, I knew "School's Out," "I'm Eighteen," "No More Mr. Nice Guy," but that was about the scope of my knowledge. But getting ready to interview someone, you've got to bone up on them, so I've been reading tons of stuff about Alice Cooper, spinning a few CDs I got, and enjoying them. Cooper's like the Kevin Bacon of rock, with ties to just about everybody, and he's a huge influence on everything from Bowie's Ziggy era to hair metal to rap-rock bands today. He was doing stuff in 1971 that's still stirring people up today, judging from some of
the hate mail
the paper got about his upcoming show here. He's a rock icon, and it was a pleasure to chat with him a bit.
I'm still working on my actual story, but space dictates I won't use but a fraction of my notes. So here for your blogging pleasure is some random excerpts from our 15 or so minutes of talk before the PR rep had to send Alice on to his next talk –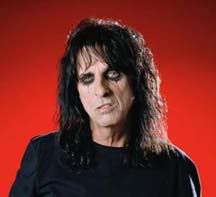 On his infamous reputation:
"I'd say 70 to 80 percent of anything you hear about Alice Cooper … is wrong."
"I've never killed a chicken onstage."
"Alice Cooper never came close to being as vile as Shakespeare." (Part of a talk about protests from local folk hereabouts upset about his show – we got letters to the editor castigating bringing a "known Satanist" to town, etc. Anyway, Cooper was talking about Shakespeare plays like "Macbeth," "Titus Andronicus" and how the desire for lewd entertainment has been around a lot longer than him.)
"Most of the songs that I hear on the radio today are songs that I would've thrown away."
What kind of music today do you dig?
"A band like Jet is a real authentic rock 'n' roll band. The White Stripes are totally unique. I like the Strokes a lot."
"There's no such thing as "shock rock" today. I don't really think you can shock an audience anymore … You turn on the TV and there's a terrorist cutting off a guy's head for real now – how shocking can Alice Cooper be?"
On being known for some of the most legendarily excessive live shows of all time:
"I never went out of my way to say OK, I can't wait to shock the audience. I was much more interested in entertaining the audience, doing something they've never seen before. People called it glam rock, people called it theatrical rock and we were at the head of all of that."
"…I looked at the Who, The Yardbirds, all of these great, great bands, but nobody's going to do anything with that stage. Why would you leave that stage just bare? Why not light it up, why not decorate it, why not make it come to life? If you say, 'Welcome to my Nightmare,' don't just say it – give it to them."
You're in your late 50s now, with a nightly radio show, still putting out new albums and touring regularly – how long can you go?
"I'm 58 years old now and I'm in better shape than I was when I was 38. …I've been married 30 years to the greatest girl in the world, I've never cheated on her. … I've never smoked cigarettes. That's a big plus. I quit drinking 25 years ago. You've got a lot of plusses on my side there."
"I'm having more fun with the show now and I'm making better records now. I think I'll end when I get out there and there's nobody there to play to. I will not end up on a Carnival Cruise – you won't see me playing a cruise ship with Ozzy Ozborne."