LIFE: A berry good time was had by all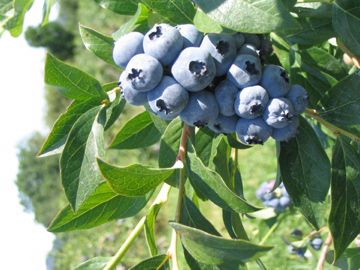 ...Good lord, I feel like I ate my way through Independence Day. My folks came up for a visit for a few days and to visit their #1 grandson, and there was much eating of food, hiking, playing and so forth. One of our favorite things to do a couple times each summer around here is berry picking – we're in a big agricultural area and there's tons of strawberry, marionberry and blackberry farms, not to mention our absolute tops,
blueberry picking
. Took Peter out with my folks Monday for some berry pickin' adventures. This year's crop was the best we've seen in the 4 1/2 years we've lived here – huge, bright berries, falling right off the bushes. Then we stopped and bought pies at a local fruit stand. Hoo-ha!
So of course I made blueberry pancakes for our July 4 breakfast. And between my folks and I we've got about 10 pounds of berries to use in coming months. Berry-licious! The diet starts again
next
week.