ETC: Redesigns, resignations, rock 'n' roll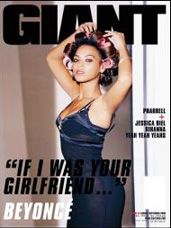 ITEM!
…And the winner for worst redesign of 2006 goes to the magazine
GIANT
, which in the space of a mere single issue managed to systematically suck out pretty much everything I liked about it. This enjoyable general-interest mag started up a year or two back and had a nice, cool-but-a-bit-geeky feel, and the early issues were absolutely packed with content; tons of reviews, from the mainstream to the esoteric, and some celebrity interviews that really managed to reach a little deeper than most. At least, that's how
GIANT
was - the newest issue is, basically, utterly banal. New editor, new design, and they've gone from "Scrubs" to "Beyonce" on the cover selection. Content has been replaced with an eye-splittingly bad redesign featuring unreadable fonts, page after page of pointless arty photo spreads with a splash of text here and there, and the once-mighty reviews section has been slashed to the bone. Feh. All flash, no content, nothing to set it apart from the crowd of competing "lad mags." I don't want to read 100 pages of photos. Good thing my subscription expires next issue anyway. Farewell, GIANT, I knew ye well and like to support struggling good mags, but your ill-thought "redesign" obviously isn't aimed at my demographic.

ITEM!
Hey, y'like
Spoon
, that hip Austin, Texas band all the cool kids dig? Go hither to
BlogCritics
and read
my review
of the recent reissue of some of their vintage work.
ITEM!
You never know which way the dominos will fall – my upcoming resignation from my job effective Sept. 1 triggered a fun amount of reshuffling in the newsroom. See, the sports editor decided he felt like a change of pace and so he's taking my job, and now one of the associate wire editors has decided he's like to be sports editor so he's taking that job. End result is my leaving ends up affecting three different jobs! Good to shake stuff up though, isn't it?

ITEM!
Hey, so you know what I'm going to be doing tomorrow around noon? Chatting on the phone with
Alice Cooper
, if all goes well. He's playing at our county fair next month and I finally managed to snag an interview with the godfather of shock rock. So basically I have to bone up on my Cooper-ism the next 24 hours or so. (Yeah, I know, I've got a hard job – I have to listen to a bunch of Alice Cooper songs and get paid for it.) Anybody got any questions for Alice they want to pass on?