Solace in the sickness
...Urgh, I say, urgh. Stumbling back to normalcy after a wicked case of the dreaded
lurgy
that I caught from the boy, leaving me a fetal mess for several days. I didn't leave the house for about 60 hours, so I guess I got a mini vacation. Fortunately I had some things to keep me company in the illness. Nice things to have around when you're sick:

•
Cat Power
's sultry new disc of covers and et cetera,
Jukebox
. If there's a sexier singer going these days, I don't wanna hear it. Cat Power's mint juleps-and-summer sweat voice has developed into a powerhouse of song, and right from the get-go,
Jukebox
envelops you in a warm mood as she takes covers by Hank Williams, Joni Mitchell and more and makes them her own. It gets off on the right foot with a delicious take on Frank Sinatra's "New York" and is fine company on a rainy night.
• The
"Buffy The Vampire Slayer"
DVD marathon continued merrily into
Season 4
, and so I'm nearly at the halfway point of
my goal to watch the entire series
. May I just say, who rocks harder than
Spike
? No one rocks harder than Spike, that's who. And the all-silent episode
"Hush"
may just be in the contention for the single best (and creepiest) episode of "Buffy" by the time I finish the whole friggin' series, in 2011...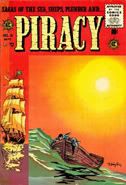 • Nothing better than reading old comic books when you're sick, and digging out my copies of the classic 1950s EC Comics collections is the way to go. Specifically, I spent much time re-reading the short-lived series
"Piracy,"
which pretty much mined the genre for all it's worth and is a heck of a lot better than Johnny Depp running around fighting squids. Fantastic art by
Wally Wood
and company, and plentiful use of
keelhauling
as a plot device. Yarrrrr!
• Why can't you buy a decent canned
chicken soup
in New Zealand, anyways?