Concert review: Sonic Youth, Auckland, Feb. 16

You know you're getting older when you wear ear plugs through an
entire
concert, but heck, that's
Sonic Youth
for you. The high priests of New York art-punk rock came back to New Zealand last night for an awesome performance of their entire 1988 masterpiece
"Daydream Nation"
for the
Don't Look Back
concert series. And they were loud, of course, because they're Sonic Youth, and they were amazing.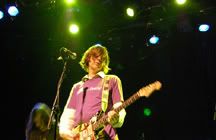 I've seen Sonic Youth three times now (Berkeley 1999, Seattle 2002) and this was the best gig yet, in an intimate theater where we scooped up incredible seats just above the raging mosh pit crowd and with perfect views of the band. Heck, I even managed to survive having gotten up to work at 5 a.m. that day and having a head cold.
The thing about Sonic Youth is people either love 'em or hate 'em. They live out at the fringes between noise and music, skating along the edges and remaining the prototypical "cool art band" and inspiring everything from grunge to the avant-garde. They've been playing their angular, dense guitar epics for nearly 30 years (!!) now and lead guitarist
Thurston Moore
and bassist
Kim Gordon
are still the sexiest rock couple in the biz. Gangly Moore, all floppy red hair, bashful grin and arms, is easily in my top five guitarists of all time list. The man produces an utterly distinctive sound, tuning his guitar in unique ways, rippling and dreamlike, surging from astounding beauty to acid-harsh clattering within the same chords.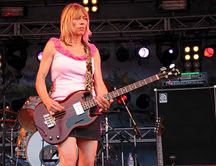 And of course
Kim Gordon
, even at 50-something, is still the coolest rock chick you ever saw, swaying along in her uninhibited dances, pounding the bass like it was a drum. Awesome second guitarist
Lee Ranaldo
and drummer
Steve Shelley
complete the combination. Particuarly great were stomps through "Daydream" tracks "Eric's Trips" and "Kissability," and a lengthy
two
encores which included a bunch of their more recent work. Plus they pulled a goofy hysterical fanboy on stage and gave him hugs. Sonic Youth are arty, but they also just seem like kinda nice guys.
And while the earplugs seemed a wee bit nerdy, they didn't filter out my enjoyment of the tunes at all and I have to admit my ears aren't ringing at all today. This year's awesome summer concert season in Auckland continues – next up,
Cat Power
March 4!