Book review: "Ultimate Blogs: Masterworks
from the Wild Web"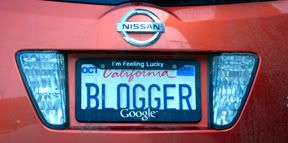 A book full of blogs? How mainstream media (MSM, of course) is
that
?
Ultimate Blogs: Masterworks From The Wild Web
attempts to do the nigh-impossible – summing up millions of blogs through just 30 or so samples. Editor
Sarah Boxer
, the first web critic for
The New York Times
, has certainly set her sights high.
But once you get past the general MSM ethos of such a project,
Ultimate Blogs
is actually quite a fun little sampler of the vast blogosphere. Boxer's task is not unlike trying to catalogue an entire beach from a bucketful of sand, and there's no way she could have the "perfect" summation of blogs here. That said, there's only a couple of excerpts I felt were missed opportunities, and notably, she turned me on to several enjoyable sites I've added to my own blogroll.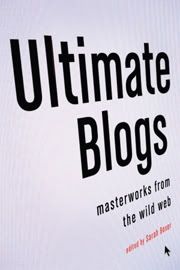 She's kind of caught between appealing to the audience that doesn't know a blog from a vlog and those that are longtime blogging fans. Her introduction may be a bit general for some, but I enjoyed her take: blogs are "conversational and reckless ... public and private, grand and niggling, smart-assed and dumb-assed." A blog anthology by its very nature precludes some inclusions – dated entries don't translate, so many political blogs don't make the cut, and neither do entries heavy on links and video. Instead, perhaps appropriately for a former NY Times employee, the quality of the written word is what sets the bar. Just like any other medium, the vast majority of blogs won't win any awards, but there are hundreds of beautifully written online journals and essays out there to choose from. (Hey, wait a minute, how come she didn't think of
me
?)
There are some great blogs included here, such as the hilarious latin-lover parody
El Guapo in DC
(sadly defunct now), the expatriate's tale
How To Learn Swedish In 1000 Difficult Lessons
, or the quirky art projects of
Ironic Sans
. Heck, I even enjoyed head-spinning takes on physics with
Cosmic Variance
or a gung-ho Marine's war tales in
Midnight In Iraq
.
The animation creations of
Ninapaley.com
, however, don't translate to page very well, for instance. A few of the blogs here like
Get Your War On's
clip-art comic strips or
The Smoking Gun
are so overexposed already that you wonder if more obscure blogs lost their spot to give them more ink.
But you could nitpick a book like this forever, and Boxer really does do a good job of showing what's out there on the wild web. It's got a god-awful bland cover and I'm not nuts about that straining-to-be-hip title (what about "Blog World" or somesuch?), but for the low price and over 300 pages of blog entries,
Ultimate Blogs
is far better than you might expect and even longtime bloggers might just find something new. Not bad for the MSM, eh?
*First published at the online magazine
BlogCritics.org