MUSIC: Spoon - 'Gimme Fiction'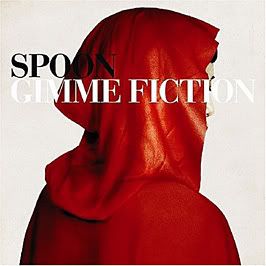 I downloaded the single "Sister Jack" by the Austin, Texas band
Spoon
recently, and loved it - a snappy three minutes or so of pure pop bliss, complete with handclaps, singalong chorus, optimistic bounce and yet a hint of danger lurking behind rather inscrutable lyrics. So when I saw the album that birthed the single,
"Gimme Fiction,"
I picked it up. And I'm now a big Spoon fan -- these guys are clever, catchy and confident tunesmiths, and for a fan of smart poppy rock like myself, "Gimme Fiction" is irresistible, retro and modern at the same time.
Spoon dances around sounds on "Gimme Fiction," including the Who pop joy of "Sister Jack," the funky, staccato Prince-circa-"Pop Life" rhythms of "I Turn My Camera On," the slinky Echo and the Bunnymen feel of "Monsieur Valentine," or the Wilco-esque wistfulness of "They Never Got You." It's eclectic as heck, but still has a cohesive unifying sound behind all the influences. I'm not a big "jam band" fan - I like most songs short and sweet. Yet Spoon manages to combine quirky pop sensibilities with a jam band's love for sheer music nicely. Several of the songs on 'Gimme Fiction' pulse along on propulsive sludgy rock jams that mostly don't wear out their welcome, turning pop tunes into epic melodies. They walk the line well; only toward the end of 'Gimme Fiction' do the noodling solos get a little tedious.
Frontman Britt Daniel has a great swaggering presence, authoritative and yet not too egotistical. The lyrics are my favorite kind -- dense and strange little impressionistic portraits of someone else's phobias and manias, open to endless interpretations. They remind me a bit of a darker version of The Shins. "Gimme Fiction" is a great CD, and a sure contender to make my list of 2005's favorites at year's end.