MUSIC: Goin' down South - R.L. Burnside, 1926-2005
As if there weren't enough rotten news from the South, just came across this: blues singer
R.L. Burnside
died today at age 78 in a Memphis hospital. The
Fat Possum Records
Web site in my old hometown of Oxford, Mississippi confirms it, and here's the obituary in
Billboard
.
Damn. Knew it was coming, of course - he was old and run-down when I first saw him, sometime in the early 1990s, doing his stripped-down gutbucket mournful Delta Blues in a bar in Oxford.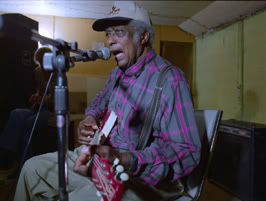 Photo by David Raccuglia
It took me a while to appreciate this cat, with a voice that echoed like a dirty empty grave and a pounding, propulsive style that was guitar, blood and sweat all the way. This was no beer commercial Chicago-style blues -- the Mississippi Delta blues practiced by Burnside and some of his predecessors like Robert Johnson, Junior Kimbrough and Son House was grimy, caked in heat and long days. Burnside was just about the last of that generation.
I saw him play many times in Oxford -- he lived just up the road in Holly Springs, and sometime in the mid-1990s he became cool again. He was just kind of buried away in the woods, forgotten, but was rediscovered -- collaborated with the Jon Spencer Blues Explosion, hooked up with Fat Possum records, got featured on soundtracks and even put out a CD with rap-styled remixes that oddly didn't suck. I was glad for the old man, that he got his 15 minutes while he was still around to enjoy it a bit.
But before that mini-renaissance, it was sad sometimes to see this guy from another world playing to an audience of drunk, inattentive frat boys and sorority girls who had no idea what they were watching. He was like a dinosaur, still walking around, something scraped from the past still doing his thing in the modern day; I found I only really started to appreciate him fully myself as I started to think about leaving Mississippi. His record
"A Ass Pocket Of Whiskey,"
rhythmic, pounding and raw, played in my stereo constantly in the summer of 1997. Songs so ramshackle that they threatened to collapse, lewd lyrics and as far from polite as you can get. He was one of a kind, rude, crude and original, and they don't make that kind anymore.

Goin' down South, I'm going down South
The chilly wind don't blow

I'm going with you, babe, I'm going with you babe
I'm going with you, babe, I'm going with you babe
I don't care where you go