CONTEST: Super soundtrack CD giveaway!
For various reasons, loving wife and I have been clearing out a lot of the clutter lately. We have an unholy large amount of books, CDs, comics and so forth that seems to constantly multiply. So, lots of hardcore elimination going on lately - trips to the used book store (where I now have enough credit to buy the entire works of Stephen King twice), CD shop, eBaying, etc.
But anyway, I decided I'd share a little with faithful music-lovin'
Spatula Forum
readers, so here's a little contest. I must clear off the CD shelf, so here's your chance at one of 'em.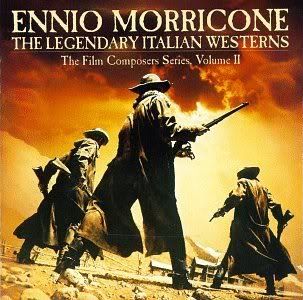 For your pleasure -
"Ennio Morricone: The Legendary Italian Westerns,"
packed with 31 tracks of classic
budda budda bum
-type music from
Fistful of Dollars, For A Few Dollars More
and many other spaghetti westerns, eccentric film scoring at its groovy best. How to get this CD? Simple.
Ship me an e-mail telling me what your favorite use of music in a movie scene is, either instrumental or pop song, doesn't matter. I'll randomly pick one out to get this nifty Ennio Morricone CD. Stage Clint Eastwood-style man with no name showdowns in the comfort of your living room! And heck, I might even scrape up another surprise soundtrack or two for 2nd and 3rd prizes if there's enough entries, so the more entries, the more chance you'll win one.
Deadline is a mere week from today,
Monday, Sept. 19
; send your e-mail to
nik dirga @ hotmail dot com
(that should foil the spammers) or if you want just leave your entry in the comments, be sure to include your e-mail.