LIFE: All hail the Flying Spaghetti Monster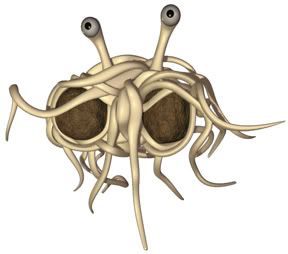 So of course you know about the
Flying Spaghetti Monster
, right? The noodly wonder that created life, the universe and everything? The Internet sensation that'll get you more than half a million hits if you pop it into Google?
Well, turns out the fellow behind that site,
Bobby Henderson
, is from right here in my hometown in Oregon, so I got to visit with him and do a profile of his pasta-fied religious movement for the paper. Read it over
here
and get converted.
And by the by, don't forget to check out my
Swell Soundtrack Giveaway
, which ends next Monday. Get in on the action!