Harlan Ellison
is a loudmouthed, righteous man. This few who know of him will argue. But he's also a fiery, wonderful writer, one of the best authors of essays and science fiction I've ever read.
Ellison has written dozens of fantastic stories, novellas and screenplays, such as the famous original
"Star Trek"
episode "The City On The Edge of Forever." He leaves his unmistakable mark all over evocatively titled tales like
"I Have No Mouth But I Must Scream"
and
"The Beast That Shouted Love At The Heart of the World"
, and his epic, impassioned nonfiction could give a lot of writers lessons on how to persuade and antagonize with mere words on a page. At age 75, he hasn't mellowed one bit.
One of my favorite
Ellison quotes
is "We are
not
entitled to our opinions; we are entitled to our
informed
opinions." That kind of sums up his eternally boat-rocking view of the world. He doesn't care about the feathers he ruffles, having been described as "possibly the most contentious person on Earth."
Now finally out on DVD, the labor-of-love documentary
"Harlan Ellison: Dreams With Sharp Teeth"
is a movie that attempts to explain Ellison to the world. Filmmaker
Erik Nelson
assembled it from years of footage dating back to 1981, and spent a great deal of time interviewing Ellison – which is mostly a case of just standing back and letting the man talk. It's Ellison warts and all, without apology or canonization. We see his friends (including famous names like
Robin Williams
and
Neil Gaiman
) and his legendary house, a gloriously overstuffed fanboy's paradise of 70+ years of toys, books and memorabilia.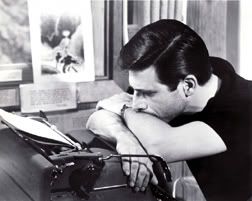 "Dreams" rises above just being one man's monologue by showing some of the pain that shaped Ellison, a short, scrawny, wise-mouthed kid who got beat up "every single day," whose father died gruesomely in front of him when Ellison was just a teenager. Ellison is one of those people who believe too hard, and who when wronged react with a fire that scorches the very earth. At one point, in mid-rant, Ellison kind of breaks off, and admits he doesn't
want
to just be the angry guy, the ranter, but he simply can't bear being taken advantage of, being mocked or made a fool. It's a telling, honest moment, one that helps humanize him as more than just a shouting voice.
Nelson also gives a lot of time to Harlan the writer, with Harlan storming through a series of lively readings from his work. His readings aren't just recitations, but dancing, vivid recreations of the passion that exists in every syllable. While "Dreams" is more about Harlan as personality over his literary worth, it gives you enough to make you want to re-read your old paperbacks and hunt out new ones.
"Dreams" doesn't touch on some of the
many, many controversies
involving Ellison in immense detail, but it does enough to give you the picture -- if he's a friend, he's a friend, but if you piss him off, lawyers are standing by and he's more than willing to bash a skull or two. (Among his victims/enemies are Fantagraphics Books, the Terminator franchise, Walt Disney, the I, Robot movie and many more.) Tellingly, Harlan's enemies aren't really given a chance to tell their side here, but that's not really the point.
I wouldn't want to live with Harlan Ellison, but he's been an immense influence on my own writing and how I view the world. I admire his strength and his voice, even when it's a bit too sharp and certain for his own good. An entertaining rant of a film,
"Dreams With Sharp Teeth"
is the portrait he deserves, for better and for worse.
The trailer, which gives you a taste of Ellison's distinctive voice: