Three mildly vexing things about living in Auckland: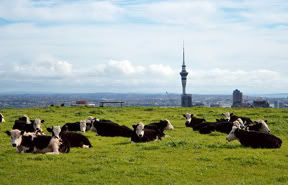 1.
I liked the cows on
Mount Eden.
I shall miss them.
Something charmingly Kiwi about climbing the city's highest point and looking down at the skyscrapers while being surrounded by bovines.
2.
One of the things about Auckland that is disappointing is the bungled potential of its
waterfront
, which fails to truly show off its marvelous environment like, say, San Francisco or Sydney. Lots of locals carp about our cluttered downtown, which has some fine old buildings and an awful lot of bland gray boxes and too many ghastly apartment buildings that are an abomination against nature. And the waterfront, which is shamefully cut off from pedestrians by ugly shipping cranes and huge fences. Hopefully,
this might be changing,
eventually, but it's a shame Auckland's space has been allowed to just develop willy-nilly rather than planned with a sense of, well,
feng shui
for lack of a better term. Not to fire up the NZ-Aussie rivalry too much, but Sydney manages to incorporate its waterfront into a fine touristy open waterfront, while much of ours is off limits. A shame.
3.
For a country that's not really tropical and whose nearest neighbour south is Antarctica, boy do we have
a lousy standard of home insulation
. Our home gets lots of sun which is great, but the
insulation
is nearly nonexistent which can be chilly and extraordinarily expensive to add. And central heating? In New Zealand? Don't make me laugh!
Brr. Can you tell it's been
freezing
lately here in the South Seas? Music warm. Put iPod on and hide under blankets until September or so.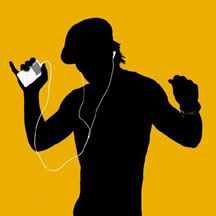 1.
Stan [Live]
6:20
Eminem
Feat. Elton John*
2.
Temptation Inside Your Heart
2:33
The Velvet Underground
3.
Date With The Night
2:35
Yeah Yeah Yeahs
4.
Bust A Move
1:57
Richard Cheese
**
5.
I Want Candy
2:35
The Strangeloves
6.
Butterfly
3:23
Screaming Trees
***
7.
I Can't Make It On Time
2:33
The Ramones
8.
Magic Toy Missing
1:22
Meat Puppets
9.
Nehalem
1:54
Everclear
10.
Crackity Jones
1:24
Pixies
11.
Teardrop
5:28
Massive Attack
12.
The Ways Of Love
4:29
Neil Young
13.
How To Fight Loneliness
3:53
Wilco
14.
Come Crash
3:03
A.C. Newman
* Have to admit I prefer the album version with Dido. Eminem and Elton John just sound
weird
together, man.
**
Richard Cheese
is the best lounge act cover singer of rock and rap tunes you will ever hear. A small niche, admittedly, but still...
*** Screaming Trees remain one of the great underrated grunge bands, I think, IMHO more interesting than say Alice In Chains or Soundgarden even.