It must be the winter blues.... Random notes: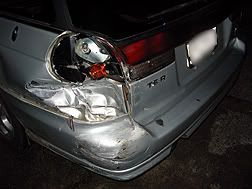 ...So anyway last weekend I got into my first New Zealand
car accident
, thanks to a teenager driving his mum's minivan who smashed into me from behind while I was slowed on the highway waiting for a car to turn. Fortunately nobody was hurt, which was extremely good as my 5-year-old nephew was in the car, but the Subaru is a little less well for the wear. Still, it's driveable until we get it repaired. We've been hoping to get another year or so out of the rather battered 13-year-old car
we bought right after we arrived
as a stopgap measure, but we'll see how it goes once it's subjected to a few weeks of repairs once we go through the insurance process. Fun fact: Last time I was involved in any kind of car accident was about 10 years ago when... I was rear-ended by a teenager up at Lake Tahoe. Deja vu.
• I haven't succumbed to
swine flu
paranoia just yet, but let's just say increasing cases in Australia and Auckland are starting to make me a bit more nervous. Particularly as the
day care centre mentioned here
is the same chain Peter was going to not too many months ago... At least I remind myself they do have treatments for this stuff if the worst comes...
•
Captain Crunchberries
aren't a fruit?
Let's sue!
• Score one for English speak! Here's your random quote of the day:
"We have learned ... that vowels are extremely important to New Zealanders."
• Courtesy of the inimitable
Topless Robot,
via '70s Bollywood comes the best fight scene
ever
for your weekend viewing pleasure -- be sure to watch to the end: