OK, I know it's only a week into the new year, but last night's show is going to be hard to top. Picture
Neil Finn
, leader of
Crowded House,
jamming on stage with folks from
The Smiths, Radiohead
and
Wilco
and more. That was
7 Worlds Collide
, an all-star three-night concert going on at Auckland's
Powerstation
and one of the biggest music events to hit this little island in years.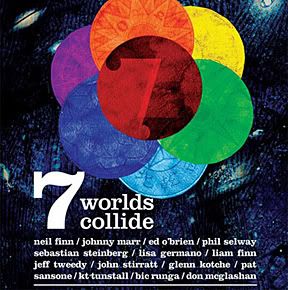 It's a benefit for the charity
OxFam
and a sequel to a similar 2001 event organized by Finn, who it's safe to say is New Zealand's most famous musician. The gang of stars are working on an album of new material and debuting their work and a whole slew of their own classic material over three nights of shows. I snuck in for Tuesday's event.
This was just about as much musical talent as I've ever seen on one stage at once -- Neil Finn, son
Liam Finn
,
Jeff Tweedy
and several other members of
Wilco
;
Ed O'Brien
and
Phil Selway
of
Radiohead;
the legendary guitarist
Johnny Marr
, co-founder of
the Smiths
; kiwi singers
Bic Runga
and
Don McGlashan
and many more. As a fan of Crowded House, Wilco, Radiohead and the Smiths, it was pretty much a dream show at a very intimate venue where you're rarely more than 20 feet from the stage.
The night was like an awesome sandwich with awesome salad on the side, smothered in awesome sauce. There was so much cool stuff to process that it's all a bit of a blur. That said, highlights were multiple: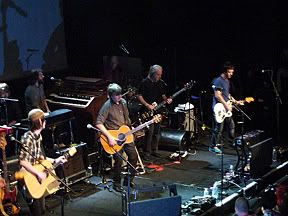 * Neil. The man. The New Zealand Paul McCartney, who's written so damned many classic pop tunes they're spilling out of his ears. I've never seen him live, and the ringmaster of events here was in perfect form, bouncing between vocals, guitar and piano. Particular greats included him opening with
"Distant Sun,"
and awesome sing-along takes on Crowded House classics
"Weather With You"
and
"Four Seasons in One Day."
Also great to hear one of his underrated solo tracks,
"She Will Have Her Way."
• Johnny Marr singing and playing throughout the night, but especially on an utterly lovely
"Please Please Please (Let Me Get What I Want)"
, quite likely the nearest we'll ever get to hearing a Smiths reunion. (Overheard on way to toilet at break: "Who is the guy who sang the
Morrissey
song?" Argh.) There's nothing quite like hearing Marr's distinctive chiming guitar live.
* Wilco are of course one of my top bands playing these days, and I was psyched to see them again less than a year after
their last show down here
. They played favorites like
"Jesus Etc.," "War On War"
and
"The Late Greats"
and one of my all-time Wilco classics, their take on Woody Guthrie's
"California Stars"
complete with Don McGlashan on a honking euphonium. Marvelous, and Mr. Tweedy in a very good humour throughout (even tossing in a dash of an a capella take on
"I'm A Wheel."
)
• Neil Finn tackling a full-throttle cover of Radiohead's
"Bodysnatchers,"
bellowing away Thom Yorke's electro-rock vocals in wonderful style, with Radiohead's Ed O'Brien on fire on guitar.
• Guitarist O'Brien and drummer Phil Selway of Radiohead were fantastic -- O'Brien (who's like eleven feet tall) provided wonderfully spooky, very Radioheady guitar accompaniment to several tracks with Wilco and others, and Selway got behind the mic to sing a nifty new song he'd written,
"Family Madness."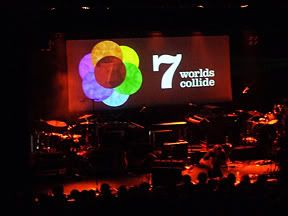 * The lovely violinist
Lisa Germano
(who's played with John Mellencamp and has had a very underrated solo career) added awesome textures to "Jesus Etc." and several other tunes.
* I named Neil's son
Liam Finn's
debut album
"I'll Be Lightning"
as
one of my tops of 2008
, so I was really pleased to see him here -- and the kid nearly stole the show at several points, really throwing himself into takes on his
"Gather To The Chapel"
and
"Second Chance"
(which featured a fantastic guitar duel with Johnny Marr), and joining Wilco on several numbers.
• Kiwi icon
Don McGlashan
was extremely cool, adding eccentric instruments like ukelele and euphonium to several songs and providing very classy vocals (a highlight being a duet with Finn on
"Throw Your Arms Around Me"
). Kiwi singer Bic Runga was great too with a countryfied
"Change of Heart"
cover.
• Of course this entire assemblage has been working on new songs for their forthcoming album, and premiered several tracks, including a new Wilco song (I think called "You Never Know") and Marr singing a track written by Tweedy. Awesome stuff. Tunstall and Runga premiered a nifty little "murder ballad" they'd written as well.
• I wasn't familiar with Scottish singer
KT Tunstall
but she was a real find, bubbly with enthusiasm and doing several great tracks.
• The encore was totally awesome, of course, featuring what I counted as up to
13
musicians on stage at one point -- all-star takes on Radiohead's
"Fake Plastic Trees"
(with a giddy Tunstall tackling vocals -- Tweedy had apparently sung it the previous night which would've been something to hear), Neil Finn and the rest of the gang tearing through The Smiths'
"There Is A Light (That Never Goes Out)"
and a full-band blast on the chestnut
"Something In The Air"
(which I know best from a Tom Petty cover).
I wish I'd brought my camera (I have borrowed the pics above from another attendee's
Flickr
page, and appreciate getting to see his pics). The only regret that I have is that for some reason I
nearly
didn't buy a ticket to go
7 Worlds Collide
at all. I must be insane, I realised last night as the last stinging chords of Johnny Marr's guitar echoed in my brain. What an event.
Update:
Totally grand
YouTube
footage of
"There Is A Light That Never Goes Out"
from the night I attended. Huge thanks to Youtuber lordez185 for the footage!