'Tis summer here, and that means one thing -- beach time.
New Zealand
is home to more than
15,000 km (9500 miles) of coastline
, which is a lot. There's no spot in the country more than 80 miles or so from the sea.
So during summer, we spend a good bit of our free time at the beach.
Auckland
is surrounded by water on most sides and there's probably 50 beaches within a short drive from our house. But the interesting thing is that NZ beaches all have a different character -- you've got placid sandy, stormy epic, secluded rocky and so forth. Within the immediate perimeter of our house, there are basically three kinds of beaches.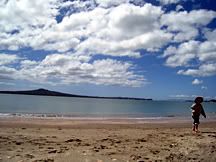 Auckland beaches:
The beaches closest to downtown Auckland are busier, less isolated than the ones you'll find elsewhere, but perfect for a quick dip before dinner. We often spend time at ones like
St. Helier's
and
Mission Bay
, which are on our side of Auckland and have a gorgeous view of dormant volcano
Rangitoto Island
which dominates Auckland's harbour. They're not so great at low tide, though, as the sea bottom is rather mucky and weedy. But at high tide, you've got gentle surf, an excellent panoramic view of the downtown, islands and flash beachside housing is to be had, along with assorted parasailers, boaters and wakeboarders. And turn around and cross the road, and you've got ice cream and coffee!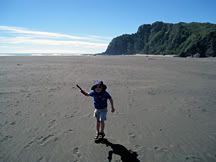 West coast beaches:
Raw and wild -- if you've seen the opening of
"The Piano,"
then you've seen
Karekare
, which is about 40 minutes west of Auckland and where our family bach is. These are awe-inspiring beaches like
Karekare, Piha
and
Muriwai
that go along the North Island's western coast (facing Australia about 1400 miles west). Perfect for long walks, with giant rocky cliffs, dense bush and amazing colours and views, these beaches are huge with surfers. They're also highly dangerous, which is the downside -- you don't swim at Karekare so much as you get bashed about in the surf for a few minutes. People drown all the time out here (a noted
rugby league player did
just a few weeks ago), often because they take the water's power for granted. But as long as you keep that in mind, the west coast is a great place to see "classic" unspoiled New Zealand.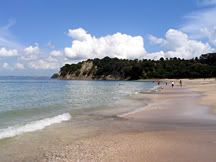 North Shore beaches:
Just across the Harbour Bridge you've got a whole other series of beaches, facing east toward the Hauraki Gulf that includes Auckland. The
North Shore
is more "Californian" in feeling than the rest of Auckland to me, and the beaches that stretch from Takapuna on up north towards
Whangarei
are very nice indeed. They're long, relatively calm and great for kids, with excellent views of the Harbour islands and Auckland's downtown in the distance. When we feel like a bit longer drive, we go across the bridge to Milford or one of the beaches up here for a picnic and swim. Some of these beaches do tend to get pretty crowded, but New Zealand crowded isn't really crowded by most people's standards.
There are many more kinds of beaches, of course, and these are just the immediate Auckland ones, but these are the ones we see the most. And now if you'll excuse me, I need to wash the sand and sunblock off!