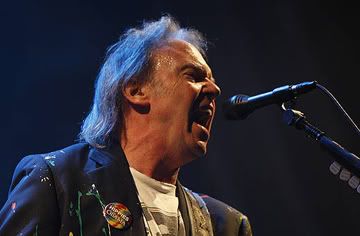 I bow before the altar of
Neil Young
. Yes indeedy, he is the hope, the way and the light. He took last night's
Big Day Out 2009
in Auckland to a whole new level of awesomeness, and showed why he's a legend.
Big Day Out might not have been quite the same for me
as last year
-- it was more of a novelty then, I saw a few less acts this year, and faithful wife wasn't able to go with me. But I finally ticked off an item on my bucket list and saw Neil Young live, and also several other great bands including
TV On The Radio,
My Morning Jacket
and
Arctic Monkeys.
(I also learned my new cellphone's camera really really sucks, so the photo at right is from the
Stuff website.
)
But in the end, though, it was all about Neil, who rocked my face off so hard that I was picking my eyebrows off the field afterwards. Neil's easily in my top five musicians of all time list and frankly, he may not make it down to New Zealand again for a long time if ever. Seeing Neil Young thrash through 90 minutes of his biggest hits had me thinking "rock god" without an ounce of irony. Simply astounding, and hard to believe this guy is nearly my dad's age! If you closed your eye you'd think he was 30, not 60-something -- the freshness of his sound and voice is something even Dylan can't lay claim to these days. He had a cool professionalism (very little bantering) but a genial sense of love for what he does, still thrashing away like a kid in his garage after nearly 50 years of doing this rock stuff.
This was a set of pretty much nothing but hits --
"Powderfinger," "My My, Hey Hey," "Cortez The Killer," "Love To Burn," "Everybody Knows This Is Nowhere," "Heart of Gold."
Now, I've always leaned more to grunge godfather crunchy Crazy Horse electric guitar Neil over sensitive acoustic Neil, but I dig 'em both. Still, I was happy as a clam this night was mostly Neil blasting away, stomping his way through his guitar solos like an old god made flesh. The mid-show acoustic interlude was great too -- the burst of cheers from the crowd when Neil strapped on the harmonica and acoustic was deafening. However, folks were
so
into it that during "Heart of Gold" and "Old Man" I mostly heard the guy behind me bellowing off-key over Neil! Neil plunged through his epic catalogue with many fine stops, but a true highlight for me was the rambling romp through
"Cowgirl In The Sand,"
where I felt the guitar scribblings echo right along my nervous system. Fantastic.
Then came
"Rockin' In The Free World,"
and I burst into a pillar of flames. "Free World" is one of the first Neil songs I ever heard, from 1990's
"Freedom"
album, and one of my all-time favorite anthems -- and it seems highly appropriate, to hear a song about the first age of Bush as the second Bush era comes to a rusty halt in just a few days. Young took "World" to a full-on blast furnace assault, with the audience yelling along to the chorus, stop-and-start feedback chords. It was quite possibly one of the best songs I've ever heard live, and when it was followed up a few minutes later by Young doing a surprise encore, guitar-string snapping cover of
The Beatles'
"A Day In the Life"
-- well, between those two songs you get what the
NZ Herald critic
called "the most wonderful ending to a Big Day Out. Ever." I can't argue with that. Sheer bliss.
So what else did I see besides Neil? A rundown:
TV On The Radio:
Sadly, a bit of a disappointment, but only a bit of one. I truly
love their records
, but their epic dense sound simply didn't quite translate to a hot field as well as it might, feeling sort of sludgy and taking time to warm up. But once they got going, the band delivered on some of their promise, particularly turning tracks
"Wolf Like Me"
and
"Staring At The Sun"
into bellowing freak-outs. Unfortunately by the time they really got going it was the end of their set! I'd really like to see them stretch out sometime in a more intimate club venue, as this felt more like a teaser.
Grade: B
Best song: "Wolf Like Me"

My Morning Jacket:
I have never been a huge fan of "jam bands" like the Dead and Phish, so it's taken me a while to get into these guys, who're often called stuff like "psychedelic space rock." I've heard a couple of albums but now consider me a full convert -- I'm loving their eclectic, guitar-drenched sound, which moves from country-rock to Prince-like jams. Singer
Jim James
has got a golden voice (if you saw the movie
"I'm Not There,"
that's them on stage during the Richard Gere sequence). This hour-long set was just a taste of what the band can do (they did a
four-hour epic
not long ago) but I'm definitely tracking down more of their work.
Grade: A-
Best song:
I'm not familiar with every track they sang (yet), but I really loved the take on
"Golden"
from
"It Still Moves"
and a really funky Devo-meets-Parliament number from their latest disc.
Arctic Monkeys:
These spunky Sheffield pop-punksters have put out two really nifty albums, with singer
Alex Turner
sounding a bit like a fusion between Blur and the Ramones. Their set was most excellent, although it suffered some from being stuck before Neil Young on the main stage -- the band thrashed through a bunch of their hits and premiered some new material from their next album. Some of their songs run the risk of sounding a bit too alike, but they're definitely one of the most impressive young British bands going these days -- considering they look all of 15, I'm eager to see where they go next. I loved an unexpected cover of Nick Cave's
"Red Right Hand"
with Turner putting a bratty spin on the gothic gloom.
Grade: B+
Best song: "I Bet You Look Good On The Dance Floor,"
their first big hit, is a terrific crowd pleaser. I did my best to pogo-dance in the mob.
I also caught bits and pieces of a few other acts I hadn't seen -- the electro-diva disco of
Sneaky Sound System
was quite fun, while the raucously cheesy metal-rock of Australia's
The Living End
was really a blast (reminded me a bit of Bad Religion). I would've liked to catch a bit of
the Prodigy
but they clashed with Neil's set and frankly, after that, I was spent as they say and anything else would've been an anticlimax. Neil!