Concert review: Wilco, Auckland, Easter Sunday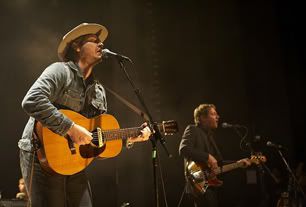 Ah,
Wilco,
Wilco, Wilco. If there's a better live American rock band right now I can't think what it is. Their first "real show" in Auckland (previous appearances have all been at festivals) was a 2 1/2-hour stunner, packed with classics and rarities by one of the tightest bands on the road. Can't think of a better way to finish up an excellent long Easter weekend.
I've been a fan of
Jeff Tweedy
and co. since the
Uncle Tupelo
days, and what's fascinating to me about Wilco is how they started off as a rather run-of-the-mill alt-country band like the Jayhawks or Old 97s, but have blown up into so much more. Over the last 13 years they've swerved from country balladry to psych-rock weirdness to hard rock bashing to excursions into krautrock and experimental soundscapes. They've been called the "American Radiohead" but I think that's a rather lazy description for a band that's uniquely Americana, twisting the old cowboy tunes into an often-surreal journey through the states of the mind and heart. Their songs are caked with road dust.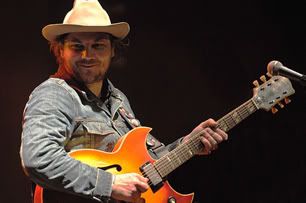 I've been on a mad great run of shows in the past month (
Sonic Youth
,
Cat Power
,
Iron & Wine
and this), but this is right at the top of concert experiences – I sat in the front row right behind the open pit, Tweedy directly in my sight line about 30 feet away, sound was excellent and not TOO loud, and the band was in top form. I loved how a great part of the set was derived from their 2002 masterpiece-to-date,
"Yankee Hotel Foxtrot."
Particular highlights included the slowly building opener
"Sunken Treasure,"
a dazzling
"Via Chicago,"
and a particular favorite of mine, the Woody Guthrie-penned
"California Stars."
I also loved the 10-minute-plus take on
"Spiders (Kidsmoke)"
during the first encore, which chugged along and kept exploding into cathartic release. Tweedy was in great, genial form, cracking jokes in the audience and repeatedly expressing his love for Kiwiland (at one point accepting a male audience member's offer to marry him "if that's what it takes to emigrate").
Tweedy and sturdy bassist
John Stirratt
are the only remaining members of Wilco's original incarnation, but the newer members are what make the band so dazzing live - particularly drummer
Glenn Kotche,
and lead guitarist
Nels Cline
, who's just astounding. Nels could shift from pedal-steel country laments to blues riffs to utterly spacey, experimental textures at the drop of a hat. He's amazingly versatile and one of the best guitarists I've seen (and the guy is in his 50s!). The spooky underwater-rock drifts of "Yankee Hotel Foxtrot" would seem hard to duplicate live, but Cline's anchor of sound brought tunes like
"Jesus, Etc."
and
"A Shot In The Arm"
to dazzling life. Put 'em all together, and these six guys put on one of the best rock shows I've seen in a while, probably since I saw
Arcade Fire
earlier this year, except this was far more intimate and lengthy.
If Wilco comes to your town, check them out. They're worth the trip. Here's a nice vid of the gang performing the jazzy
"Impossible Germany"
last year – excellent guitar showcase for Nels!