Concert review: Iron & Wine, Auckland, March 14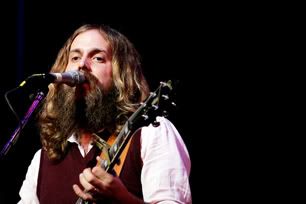 March concert madness continued last night with the debut performance of
Iron And Wine
in New Zealand. Iron and Wine is led by
Sam Beam
-- kind of Nick Drake as if he were influenced by William Faulkner with a dash of Nick Cave and the Grateful Dead -- and he specializes in a hushed, gorgeous alt-folk blend that's often spellbinding. (You might have heard Iron and Wine's great cover of The Shins'
"Such Great Heights"
on the "Garden State" soundtrack.) Iron and Wine's latest,
"The Shepherd's Dog"
, opens up from the mostly acoustic feel of their earlier work, incorporating multiple rhythms and drawing on elements of world music.
On this tour, Beam's crystalline vocals are backed up by a full band, including sister Sarah Beam on backup vocals. The band's MVP was the stunning steel and pedal guitar work by Calexico's
Paul Niehaus
-- his otherworldly tones leant a haunted wild-west vibe to it all. The show opened with the fantastic
"Trapeze Swinger,"
in which Beam distills what feels like the whole history of man and God and devil and the fall into seven or so minutes of beautiful music. Beam's music is quiet, late-night meditation fare, but his lyrics are wonderfully dark and twisted, drawing on epic imagery of death, love and myth. Songs start with lyrics like
"Papa died Sunday and I understood / All dead white boys say, 'God is good'"
or deal with cheery topics like the Bible's Jezebel awaiting her death at the teeth of wild dogs. His lyrics, such as those for
"The Trapeze Singer,"
read like hippie-Gothic poetry.
Unfortunately, the kinda rowdy Friday night pub crowd wasn't quite the best venue for Iron & Wine's hushed and intricate tunes. Beam is genial but very focused, looking like a liberal town college professor up there in his beard and sweater vest. The show is all about the music rather than banter, so sometimes I think there was a little disconnect with the crowd. I think the show might have played a bit better in a seated venue where drunk 20-somethings weren't jostling their mates. But heck, I just kept moving away from the annoying folk and grooved to the music.
Nevertheless, it was a swell concert, and here's a great live take on the show opener,
"The Trapeze Swinger,"
from 2007: