Concert review: Cat Power, Auckland, March 4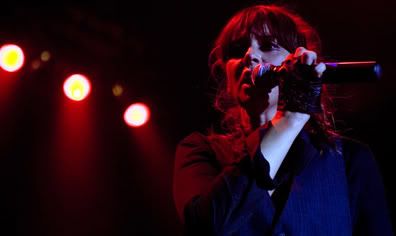 Yep, I believe in
Cat Power
. Her return to Auckland Tuesday night was an outstanding concert by one of my favorite singers today. I wasn't quite sure what to expect --
Chan Marshall,
aka Cat Power, has been putting out gorgeous ethereal tunes for more than a decade but also developed a bit of a reputation as a really rocky live performer, battling stage fright and sometimes just kind of trailing off into limbo in the middle of a set. (A fine but very sad profile of her in
The New Yorker
a few years back had me fearing for her life, really.)
No worries, mate -- she was great. Chan has come through the fire, done the rehab thing and all that, and reinvented herself as a down-and-dirty Southern blues soul singer. She's originally from Georgia, and her earlier work was more hushed, sparse and kind of Gothic folk, but her last couple albums have seen her sound broaden into a full band and her fantastic pipes expand into a kind of alternative version of Nina Simone/Aretha Franklin or somesuch. The scorching guitar work by Jon Spencer Blues Explosion's
Judah Bauer
was particularly great, although the sound was a little muddy and occasionally overwhelmed Chan's vocals (didn't help I was about two feet from a speaker and wedged in by the sell-out crowd, I guess).
Chan is eccentric, definitely -- constantly fidgeting with her clothes, making funky jokes, bumming cigs from the audience and dancing a bit like an autistic Frankenstein monster, but she was also delightfully passionate, quirky and real. She was terrifically confident compared to her earlier reputation. She never felt packaged, utterly throwing herself into the music. Her current disc
"Jukebox"
is a set of reimagined cover versions so this set was heavy on the covers, including takes on Nina Simone, Hank Williams and Patsy Cline. I particularly loved her ferocious take on her own
"Metal Heart"
and a radically revamped
"Lived In Bars."
No
"Cross Bones Style"
, alas, but can't have everything.
I had an amazing vantage point, maybe 10 feet from her tops, to the point where I could hear the scuff of her shoes as she danced across the stage. Have to admit I fell a little bit in love with her -- Chan was raw and naked in a way you don't often see -- when she was belting out "I love you" over and over in her fantastic last song, you could almost see the person she was singing it to. Somehow, looking at her I felt l like I was seeing someone who was once badly broken but who's getting better all the time, hopeful and brave enough to survive the days ahead. Chan Marshall is happy, and I hope she stays that way as her voice is a beautiful one indeed.
Here's a great performance of the 2008 version of
"Metal Heart"
live in Paris. Awesome!
And her fantastic sultry cover of the Frank Sinatra chestnut
"New York"
: