Notes from Sydney, Part 3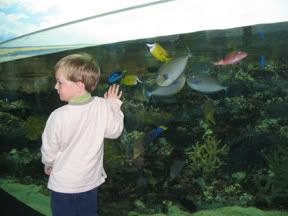 Ah well, a bit disappointed not to have more comments on my
Sydney
travelogue to date (I know, I'm an attention whore, but hey, aren't all bloggers? Validate me!), but here's the third and final installment for those who're interested…
We arrived back from our
Blue Mountains
train trip well and truly knackered, but there was still a fair amount of sightseeing to fit in during our final two days in Sydney. Saturday morning we were off early to the
Sydney Aquarium
, which Peter zipped merrily around for nearly two hours. Excellent displays of platypus, Australia's colorful fish (think
Finding Nemo
in live-action) and a harrowing shark tank you could walk through. Following that, the wife and I alternated some shopping trips and traded off minding the boy. Lots of folks from New Zealand actually go to Sydney specifically to shop, and things are definitely a good bit cheaper here – not quite U.S. Wal-Mart cheap, but there's an enormous selection, too. (If downtown Sydney really reminded me of anywhere in the U.S. I've been, it had to be New York City.) Loaded up on the books and CDs and clothes.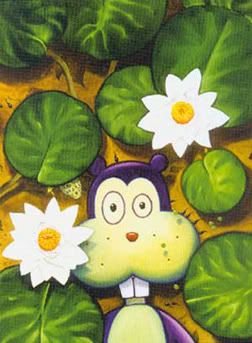 Saturday night, I ended up actually going to a show at the world-famous
Sydney Opera House
. While there on my tour Thursday, I'd found out that one of my favorite cartoonists, Seattle's
Jim Woodring
, was that weekend putting on a musical/animation and performance art showcase at one of the Opera House's smaller theaters, the Studio. I figured I couldn't pass up a chance to see something at the Opera House that wouldn't set me back a couple hundred bucks for a ticket. If you're not familiar with Woodring's art, it's like a surreal combination of Disney and Dali, dream-influenced, often pantomime imagery that is subtly creepy and often staggeringly beautiful. It's not for everyone, but his
"The Frank Book"
is a hefty gem of a book that shows off his truly unique style. At the Opera House, Woodring was launching an Australian tour with a show that combined Japanese-created animations of his art, slide shows and live music soundtracks, and his own performance art narration to his artwork – plus a Q&A. Quite a unique event, and dazzling to see some of his art come to life. Some of it veered a little too hard into experimental for me (particularly one guitar player whose "soundtrack" gave avant-garde a bad name; it sounded like he spent the entire time tuning up), but it was generally a terrific evening. And how queer it was for an American living in New Zealand to travel to Australia and see a cartoonist from Seattle?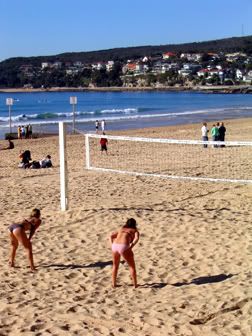 On Sunday, our last day in Sydney, we had to get out on the gorgeous harbour and enjoy the scenery. (I think we saw perhaps two clouds during our entire time there, and the weather was a good 15-20 degrees warmer than Auckland has been.) We had the choice between Sydney's famous Bondi Beach or
Manly Beach
, but we picked Manly as you had to take the ferry to get there. The harbour is honestly one of the finest I've seen in the world – unlike, say, San Francisco, the ugly cranes and container ship traffic are nowhere to be seen (they're in Botany Bay further south), so it's all houses, skyscrapers and blue, blue water. Once we arrived in Manly, I felt like I'd ended up back in California – it looked just like Santa Monica, with a boardwalk, lots of shops and a huge, white-sand beach that gradually filled up with beach bunnies and surfers throughout the morning. Considering this was the seasonal equivalent of late November in the U.S., it still seemed like summertime – witness the bikini-clad volleyball players. We wished we'd brought our swimming togs as it was actually warm enough to take a dip. A fine place for a picnic Sunday lunch and people-watching. (Don't imagine moving there though – an article in the Sydney Herald pointed out the average house price there is AU$1.8
million
!)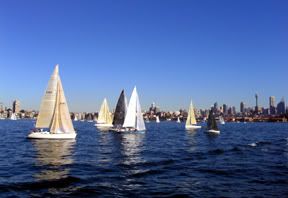 The ferry trip back to downtown Sydney was one of the more amazing sights we'd seen – that famous harbour view, Opera House, Harbour Bridge and all, was populated by literally
hundreds
of sailboats out enjoying the day. Remarkable, because at 9 a.m. or so when we went over to Manly the harbour was essentially empty. The ferry was practically threading its way through all the boats out on the harbour. Sigh. I wish I was a sailing man.
We finished off Sunday with some more shopping and bopping around, and I polished it all off with a visit to the excellent
Australia Museum
, which had some superb stuff – a massive, colorful mineral collection, and tremendous Aboriginal history displays (including one that had a fascinating look at the last tribe of Aborigines to be "discovered" by the white man –
in 1984!
). Lots of that strange, beautiful Aboriginal art, too, with its hallucinogenic images of the
"Dreamtime."
I have to toss in a plug here for some of the excellent books I've read about Australia recently, including
Jan Morris
' opinionated and trivia-filled
"Sydney,"
which I read while in town;
Bill Bryson
's hilarious
"In A Sunburned Country,"
and another book by
Tony Horwitz
, the outback hitchhiking epic
"One For The Road"
– plus
Robert Hughes
' legendary look back at the nation's earliest convict history,
"The Fatal Shore: The Epic of Australia's Founding."
Considering it's only a 3-4 hour flight away, I'm quite hoping we'll get to Australia again in another year or two for a visit – perhaps up to explore Brisbane and Queensland, perhaps, or over to Melbourne? After all, it's a big country, and there's a lot to see.