Modern times, empty wallets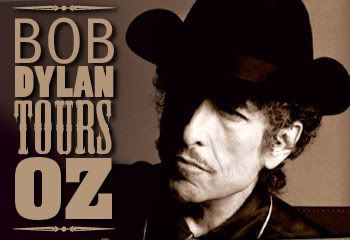 So
Bob Dylan's
coming to Australia and New Zealand for the first time in four years, and
reborn Dylan fan
that I have become in the last year or two, I knew I had to buy myself a ticket for the Auckland show in August. 'Cause, y'know, the man
is
66 years old now, and who knows if he'll come this way again? That coupled with the fact that his last disc, the jaunty
"Modern Times"
, was one of my favorite albums of last year and IMHO his strongest in a long time. And I beat the scalpers to land tickets for the 25th row in the brand new Vector Arena! I just won't think about what the ticket cost.
Sadly, I had to make a choice here – because it turned out
The Shins
were also coming to Auckland in early August for a show as well. (See - we may be far away but we're on the touring circuit!) But as ticket prices for live music are so hideously expensive here, I had to really force myself to choose one or the other as we really are trying to save cash for the housing fund. I've actually seen both the Shins and Dylan live before – the Shins in 2002, Dylan in 1990 – but when it comes down to it, Dylan is Dylan, innit? Sorry, Shins. I'll see you next time when my wallet is heavier. And Bob, I'll see you from the 25th row in August. Play
"You Ain't Going Nowhere"
for me, will ya?