MUSIC: The Cure, revisited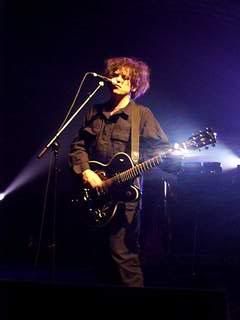 I admit, I've long taken
The Cure
for granted. Their dark, swooning tunes were a soundtrack through my high school years in the late 1980s, along with
Depeche Mode, Siouxsie and the Banshees, Erasure
and the like. The synthesizer was king and androgyny was in vogue. Yet the band's oh-so-'80s outer trappings – front man
Robert Smith
's pale, lipstick-adorned face, hair vaguely resembling a spider in a web – later obscured for me what were some gorgeous, heartfelt pop songs. It wasn't until recently that I started really looking back at The Cure – and unlike most childhood crushes, they're even better than I remember.
Rhino Records
' ongoing reissue series of the Cure's albums demands we take the Cure seriously. They place the band's epic music in context, dishing up lovingly remastered CDs complete with an entire CD of bonus tracks and a lengthy booklet of essays and photos. Unlike some of their synth-rock contemporaries, The Cure's music in its gloomy grandeur has barely aged at all. The latest two reissues by Rhino, 1985's
The Head On The Door
and 1987's
Kiss Me Kiss Me Kiss Me,
sound magnificent in their remastered form, and still have the power to spook and awe.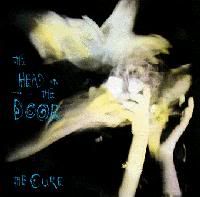 Coming on the heels of band shake-ups and personal traumas for Smith,
Head On The Door
marked the expansion of The Cure into the lusher, layered and more listener-friendly sound they'd become famous for. The bleak sound of early albums like
Pornography
and
Faith
becomes more kaleidoscopic and hook-filled. Even while the subject matter remains rain-soaked and remorseful, there's a peppy bite to songs like "Close To Me" and "Inbetween Days." A comment by Smith in the liner notes to
Head On The Door
really sums up what they were going for: "I was trying to create a sort of attractive tension by marrying slightly bitter words to really sweet tunes," he said. That "attractive tension" pulses throughout these two albums, which remain a creative high point in the Cure's 25-year career.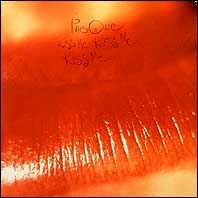 Head On The Door
was a solid critical and commercial hit. But even bigger things were to come. The band's seventh album,
Kiss Me Kiss Me Kiss Me
was the Cure's popular breakthrough in 1987, with hits such as "Why Can't I Be You?" and "Just Like Heaven" – perhaps the band's most iconic, timeless song of all. The simmering beats of
Head On The Door
erupt in this jittery, lovelorn double album. It's a sprawling, diverse and kind of frantic masterpiece that rarely feels retro, nearly 20 years on. Smith's as giddy here as he's ever been, in the funky bounce of "Hot! Hot! Hot!" or the lusty abandon of "All I Want," with Smith snarling that he wants to "just hold you like a dog." Dark and dreary? The band even cavorts around in silly Halloween costumes in the enclosed CD booklet photos, poking fun at their image. It's one of the few double albums that never sounds bloated.
The bonus CDs for both sets are solid, if not quite revelatory material. You won't find radically different versions of existing songs or buckets full of totally unheard songs, such as in Rhino's Elvis Costello reissue series. Instead, The Cure seem to work in a more organic fashion – we hear a couple dozen demo tracks of songs, mostly instrumental. What's interesting is how strong and evocative the melodies are even without Smith's vocals. The tunes seem to spring fully formed from Smith's head, and the demos are kind of like viewing the skeletons under the skin.
A selection of bootlegged live tracks round out each disc.
Head on the Door
is richer with the archival material – there are four unreleased songs or song sketches here, but
Kiss Me Kiss Me Kiss Me
is still sprawling over with the album's 18 tracks and 18 more on the bonus disc. The new version includes the song "Hey You!" which was intended for the original CD release but didn't fit at the time.
If all you think of when you think of the Cure is Robert Smith's makeup, it's time for a reevaluation. These terrific Rhino reissues shine a light on some of the '80s finest alternative rock songs.