LIFE: Yurt yurt yurt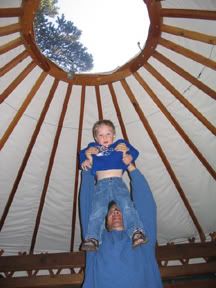 ...So we zipped away to the
Oregon Coast
for a little camping getaway to decompress from all the pre-moving stress, and finally fulfilled my lifelong dream of staying in a
yurt
. What is a yurt, you ask? Basically a round cross between a tent and a cabin, based on the Mongolian nomad dwelling. Several of the coastal campgrounds in Oregon have yurts and I've been vaguely curious about staying in one for years now. They're very popular though, and hard to get a reservation for, but I finally scored one. It was a pleasant change from our usual tent camping to be "yurted." It's not very hardcore camping - they even have electricity! - but there's something fun about staying in a little round fairy-tale house. Unfortunately there were no corners to tell Peter to stand in when he was bad. (Have we mentioned how fun 2 1/2-year-olds are?) But now I can say I have slept in a yurt.
It was a fine getaway as always - we went to our favorite coastal town of
Bandon
, which is nicely picturesque and touristy without being overwhelmingly so, and far less crowded than some of the more popular Oregon Coast haunts get. Now that we're just about a month away from leaving Oregon, we realized this might just be our last trip out there. There'll be beaches in New Zealand a-plenty of course, but the Oregon coast is something unique and special. I'll miss the views.
And Peter will miss the driftwood!