MOVIES: 2006 Movie Preview
Forget
"King Kong"
and
"Brokeback Mountain."
That's all
so
2005. What's coming up in 2006 at your local movie theater? Here's an alphabetical look at the dozen movies I'm most interested in announced for 2006 so far:
Art School Confidential.
It's another movie combining the talents of one of the great comic artists of our time, Daniel Clowes, and director Terry Swigoff. Their last movie, "Ghost World," was fantastic, and this one takes on the scary world of art school, loosely adapting one of Dan's strips.
April 28

Clerks 2: Passion of the Clerks.
Catch up with Dante and Randall ten years on, still mired in dead-end jobs. This is either a really great idea or a really bad one. Will it catch the unique vibe of 1994's "Clerks"? It's in color, for one thing... Either way, it's got to be better than Kevin Smith's very so-so "Jersey Girl."
August.
The Da Vinci Code.
The gazillion-selling novel isn't the best thing I ever read, but it is a catchy page-turner. With Ron Howard, Tom Hanks, Ian McKellen and many more on board, it should make for a decent thrill ride of a movie -- heck, half the time the book felt like a screenplay, anyway.
May 19.

For Your Consideration.
Writer-director Christopher Guest, co-writer Eugene Levy and the rest of their wacky ensemble turn their satiric attention to Hollywood's award season. Another film from the minds behind "A Mighty Wind" and "Waiting for Guffman"? I'm there.
Sept. 22

The Fountain.
Hugh Jackman plays a time traveler who struggles for 1,000 years as a Spanish conquistador, a scientist and an astronaut to save the woman he loves. Directed by Darren Aronofsky ("Requiem for a Dream"), it has a very promising mind-bending story. Opening TBA.
Marie Antoinette.
Sofia Coppola follows up "Lost in Translation" with something completely different — a take on the legendary Antoinette, played by Kirsten Dunst, in historic France. A really mesmerizing
trailer
with a fascinating choice of music has me quite looking forward to this.
Oct. 13.
Mission: Impossible III.
Yeah, yeah, everyone's sick of Tom Cruise, and the first two M:I movies were brain-dead, disposable but still solid high-octane entertainment. Extra points for casting the great Philip Seymour Hoffman as the villain. Worth seeing if it's more like Part 2 and less like Part 1.
May 5
Pirates of the Caribbean 2: Dead Man's Chest.
Johnny Depp's Captain Jack is back. The first was surprising fun. The sequel could either be another blast or a bloated over-hyped mess. But Depp is back, so I'm hoping for the former.
July 7
Tenacious D in: The Pick of Destiny.
The origins of Jack Black and Kyle Gass' frenetic rockin' duo are finally revealed. If you don't want to see this, you do not rock.
September.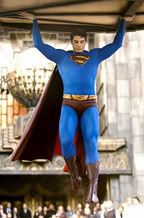 Superman Returns.
This year's "Hulk" or this year's "Spider-Man"? I really don't know what to expect from this production. I've read some
interesting press
on it, and worry about the potential for letdown. But director Bryan Singer helmed the first two "X-Men" movies, so I'll be at the head of the line to see what he's done with the Man of Steel.
June 30
X-Men 3.
Despite losing director Singer to "Superman," the first trailer for this is quite entertaining, and the first two movies were excellent. Plus, "Frasier's" Kelsey Grammer is blue as the Beast. Cautious because director Brett Ratner doesn't come with a great reputation, but big fan of the series, so I'll give it a shot.
May 26

V For Vendetta.
Yeah, Alan Moore has a terrible track record with movie adaptations of his graphic novels ("League of Extraordinary Gentlemen," "From Hell"), and it does sound like this movie about a totalitarian future terrorist has taken some liberties. But it's starting to build some interesting buzz, and Natalie Portman is great whenever she's not in a George Lucas movie.
March 16.
Least

looking forward to:
At least two big-budget 9/11 themed movies are planned for next year,
"Flight 93"
by Paul Greengrass and Oliver Stone's as-yet-untitled World Trade Center movie with Nicolas Cage. I have to admit I have zero interest in seeing what happened that day reenacted by actors on the big screen. I only wonder that anybody could. The events of that day inevitably will lead to great art (I personally loved
Jonathan Safran Foer's novel "Extremely Loud and Incredibly Close"
), but Hollywood all too often cheapens reality. I suspect these movies will be seen as too much, too soon.