LIFE: In memory of Dan Phillips
Working on a fairly slow Saturday night here and doing some aimless Internet surfing, I just belatedly discovered that one of my old bosses — really, one of my
first
bosses – died suddenly one month ago.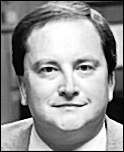 Dan Phillips
was assistant publisher at
The Oxford Eagle
in Oxford, Mississippi, and he
died Dec. 12
at age 47 due to complications after a kidney transplant. His brother, Tim, who I also worked with, had donated a kidney to try and save Dan's life in the face of failing health. I am just heartbroken and sick over this, and discovering it I felt like I'd been punched hard in the throat in the way that only truly awful news can do you.
The Eagle and its "alternative entertainment weekly,"
Oxford Town
, was where I got my "training wheels" in journalism, the first real paper I ever worked for after my college days. I was hired as Oxford Town's assistant editor a month before graduation in 1994, and later, Dan hired me to take over as editor of that publication. He had faith in me, and always encouraged my education and inspirations, tolerated my flights of fancy and occasional blasphemy.
I always appreciated Dan giving me that chance, and that time I served as editor of Oxford Town, up until 1997, was both the hardest work of my journalism career and the most fun I've ever had at a paper. There were lots of 10-, 12-, even 15-hour nights, but there was a freewheeling kind of creativity and what-the-hell spirit at Oxford Town I've rarely recaptured quite the same way in my career. We were the "wacky younger sibling" of the more staid and respectable Oxford Eagle, our task to get the college-age readers and cover Oxford's surprisingly booming entertainment scene. It was an awesome job.
The Eagle is a pretty small paper - around 6,000, five days a week, but Dan was a player on the
national newspaper scene
regardless. He was the president of the National Newspaper Association in 1999, the first Mississippian in 50 years to head up the 3,600-member group. People who knew Dan liked Dan, simple as that, and the tributes flowed in after his death. The dean of Mississippi columnists, Sid Salter, wrote a
fine ode
to him.
Dan was the kind of person I've discovered is kind of rare in journalism — a fundamentally decent man, relaxed and rarely ruffled by the chaos of daily deadlines. He and his father, Jesse, and brother Tim helped shape my impression of journalism as a calling that can be harrowing, but one that's also humane. Dan left far too early and in far too tragic a fashion, and his passing is deeply unfair to everyone who ever knew him.