LIFE: Happy New Y--*glub glub*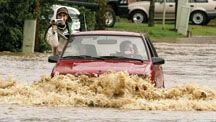 And so
2005
ends like it began -- with a crapload of water and a lot of upset people. Well, the constant rains and flooding we're getting up here in Oregon and
most of the west coast
in no way compares to the Asian tsunami, obviously, but it's still a lot of water. Been raining nonstop all week, and all the creeks and rivers around here are running at capacity.
There's an apartment complex just down the street from work that flooded yesterday. One of my coworkers, Ginny, and her husband Sean, live there and so yesterday afternoon a whole group of us led an impromptu evacuation party. We had to clear everything out of their very full apartment as water began sneaking in to all the ground-floor apartments in the complex, turning carpets into a soggy swamp. Good times. Fortunately they got most of their stuff out without it getting too wet, but still a hell of a thing to have to go through, and not a fun way to ring in the New Year. As often happens in the newspaper biz, it's meant a lot of scrambling around rearranging packages planned for this weekend and sending reporters and photographers out to run around in the rain.
The downtown park where we spent a lot of time this summer is about halfway under water, too. That South Umpqua River in the photo doesn't usually include the trees and sidewalks. I'm just glad our own house in on a hill (as long as it doesn't slide off it!). Check out
Patrick's
blog for some great
before-and-after photos
far better than mine showing how this rain has turned out sleepy cricks into raging torrents.
Hope your new year is drier than ours is shaping up!