MUSIC: The return of Michael Penn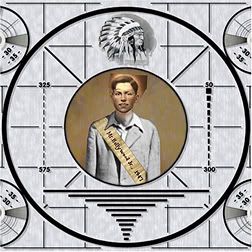 Michael Penn
finally has a new album out! This under-the-radar pop tunesmith is someone I've liked for years, but he's not super-prolific - since his first album "March" (and one "hit," the single "No Myth") circa 1989, he's only put out four additional albums. Joe Blow probably knows him better for being the brother of
Sean Penn
and the husband of also-fine singer
Aimee Mann
, but he's a great creator on his own, crafting literate, hook-filled pop that's heavily influenced by the "3 B's" – Beatles, Byrds and Bobbie Dylan.
So now he's back, but it's with a "concept album," two words that usually make me shiver in fear. I'm not nuts about concept albums, and even the best — Green Day's "American Idiot," "Tommy" by The Who, or "Sgt. Pepper's" — are usually good in spite of their concepts more than anything. Penn's fifth CD,
"Mr. Hollywood Jr., 1947,"
is songs set in and about the strange post-WWII year 1947 in Los Angeles, at least in theory. A lofty concept, but how's the music? Well, it's good, with Penn's distinctive, evocative melancholy drone of a voice and elaborate arrangements. But it's also padded with some filler and lacks the punch of Penn's best, 1989's "March" or 1997's "Resigned." Yet at its finest, it does summon up a kind of lost world, set in the desert heat and broken dreams of LA.
On a few listens, a few songs really jump out as up there with Penn's best, such as the gorgeous lament "O.K.," the brooding, anthemic "Walter Reed," or my favorite track, and one of the album's most 'up', "On Automatic." Penn also branches out more musically than before — "Mary Lynn" has a chant-like, Indian feel that brings to mind some of George Harrison's spiritual solo work. One thing that really annoyed me were several tracks that were semi-instrumental filler, wanna-be Radiohead noodling that didn't do a thing for me. I always feel a little cheated by filler, but that's just me. Penn's a cult artist to be sure — can you imagine Mariah Carey writing a concept album set about post-world war lifestyles? But he's got a sure hand for a hook and a cutting lyric, and brings more intelligence and wit to the game than most musicians can dream of.