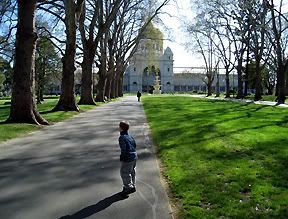 ...So I'm back from my second trip across the ditch to
Australia
, a lovely 5 days or so in shiny
Melbourne
. We had a rather quick urban getaway, sticking right to the city itself so no Outback adventures for us, but it was a fine chance to get a look around Australia's second-largest city after our
trip to Sydney
a while back (with about 4 million people each town is the same size as the entire
country
over here). Melbourne is a fine place, filled with grand and intricate Victorian architecture and a thriving cultural scene. Going to Oz from NZ is an interesting experience -- both times now I've felt like I was visiting the bigger brother. Sydney and Melbourne are true thriving metropolises like New York or San Francisco, and make Auckland seem rather humble in comparision.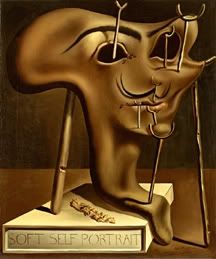 One of the big attractions of going to Melbourne right now for us was several great museum exhibitions. A big highlight for me was the National Gallery of Victoria's
"Salvador Dalí: Liquid Desire"
show, which features 200 works from Dalí collections. Dalí is one of my favorite artists, and this show was a real treat -- besides the paintings, it also included a variety of sketches, videos and multimedia works. I've got a big Taschen monster book of Dali paintings but there's nothing compared to seeing his works in person – the colours really explode forth, particularly the vivid blues and the yellows of Dali's beloved Cadaqués beaches in Spain. I also had new appreciation for Dalí's underrated sheer skill as a draftsman -- the sketches and rough drafts on show display his tight grasp of anatomy and perspective. The exhibit even included Dalí's bizarre and beautiful animated film collaboration with
Walt Disney
,
"Destino,"
which was only finished in 2003.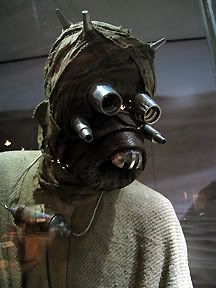 We also took the train out to West Melbourne and the
ScienceWorks
museum, where a display of great importance to all of us was on --
Star Wars: Where Science Meets Imagination
, a super-cool show which has been traveling the globe that features dozens of costumes, props and models from all six "Star Wars" flicks, as well as a bunch of exhibits on how the science behind the movies really could work. On a 1 to 10 geek scale this show was an 11; balding 30-somethings like myself oohed and awed at the life-size props of FX-7 the medical droid and a Wampa as if we were at the Sistine Chapel. I mean, the actual model of the land speeder they used in "A New Hope"? Well, I dug it.
Another great place to visit was the evocative
Old Melbourne Gaol
, which housed thousands of criminals back in the bad old days up til the 1920s. It also saw more than 130 prisoners hanged, including the famed bushranger
Ned Kelly
.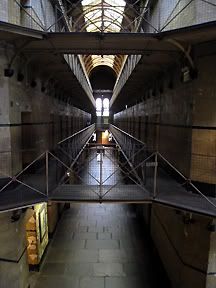 Kind of an Australian Alcatraz,  they've turned what's left of the old structure into a very spooky place, with several dozen cells stretching down a long dark corridor. The cells are tight and crammed (I could just get my 6' 2" self through the tiny doorways) and it's not hard to visualize what it would've been like to be kept there; prisoners were tightly controlled and forbidden even to talk. Spookiest of all are the
"death masks"
taken of executed criminals, which are displayed almost like decaptiated heads throughout the prison, with short tales about the prisoner's grim lives. Ned Kelly's death mask holds a place of "honor" at the end of the hall, with a good display about his life. (We'd just watched the rather mediocre Heath Ledger movie version of Kelly's life the other day so it was particularly interesting to see Kelly's final domain.)
We had a hyperactive 5 1/2-year-old boy in tow, of course, so couldn't check out everything, but a very good public transport system meant we could see a lot in a few days. We also did a great deal of just wandering around Melbourne's busy streets and many parks and gardens, browsing record and comics stores (the fantastic
Minotaur
made my heart skip a beat), eating at the
Victoria Market,
visiting the excellent
Melbourne Museum
and its superb Aboriginal art display, drinking too much coffee and admiring the view from our hotel of the city sprawled out before the magnificent
Yarra River.