The Favorites #1: Actress, Song of the Week, Blog
In the interest of trying to keep this blog a valuable destination point in your Internetting experience, here's a new occasional feature I'll do just to tell you what I'm into right now (and really isn't that mostly what a blog is about?). Today's
Favorites
that I'm digging: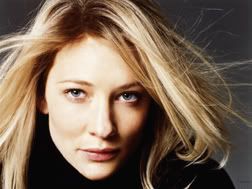 FAVORITE ACTRESS:
Cate Blanchett
has taken the crown from
Nicole Kidman
, who's almost always worth watching but who has the knack of picking some really crummy movies to waste her gifts in (
Bewitched, The Invasion, The Human Stain
, anyone?). Cate, on the other hand, is really taking on some extraordinarily varied roles lately, and this fall promises to be the winter of our Blanchett -- I'm dying to see her playing a version of Dylan in the wacky new
Bob Dylan
biopic,
"I'm Not There,"
and quite intrigued to see her take on a sequel to the role that brought her stardom with
"Elizabeth: The Golden Age."
Most recently I watched
"Notes On A Scandal"
the other night, starring Cate as a ditzy young teacher who becomes involved in a parasitic relationship with a bitter colleague (an excellent Judi Dench). It reaffirmed my notion that Cate can play nearly anything -- a sex object in "Scandal," a wounded housewife in the otherwise overwrought "Babel," an elf queen in "Lord of the Rings," and that marvelous take on Katherine Hepburn that won her an Oscar in "The Aviator." (A role Kidman passed up, reportedly -- doh!) Blanchett brings an intelligence to her roles that's rarely calculating, a kind of gentle realism that obscures her remarkable talent a bit. I don't think of her as "flashy" or tabloid material, but as a serious actress who just happens to be rather gorgeous. As if we needed further evidence she's the queen bee of acting these days, she'll be in 2008's fantastically titled
"Indiana Jones and the Kingdom of the Crystal Skull."
No word on whether she's Indy's love interest or nemesis -- but personally, I'd love to see her take a crack at playing a villain. Heck, I might even have to root for her against Indiana Jones.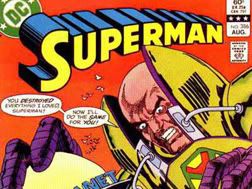 FAVORITE NEW BLOG DISCOVERY:
Todd Klein
is the niftiest letterer in comic books, perhaps best known for his work on Neil Gaiman's
Sandman
and Alan Moore's Americas Best Comics. And he like everyone else has
a blog
, which is a remarkably fun site for anyone interested in comics trivia and design. I flipped out like a monkey on crack over his amazing ongoing essay series
Logo Studies
, which dissects the genesis and varying appearance of iconic logos such as
Superman
and
Batman
over the decades. I know, I know, it's like a 10.8 on the Geek Scale, but Klein is a fascinating guide through the years showing how approaches to these iconic type designs have changed (and you're hearing this from a guy who watched an
entire documentary on a type font
not too long ago, so it's kinda up my alley). That sturdy "Superman" logo pretty much defines the character in letters alone, and it's been really nifty having Todd look at how these designs came to be. An excellent "behind the scenes" look at the comic industry that is quite different than the norm.