It was eight years ago today...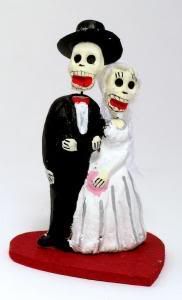 ...That some crazy kiwi
married
some wacko American journalist. A lot's changed since then - the manic toddler, the moving around America and then to New Zealand, a couple of cars, travels everywhere from Alaska to Mississippi, but it's all been grand indeed. This last year has maybe been the toughest yet to deal with and keep our sanity, but so far, we're still here. I haven't always been the best husband, but as Jules in
Pulp Fiction
put it, "I'm trying. I'm tryin' real hard to be a shepherd." By which I don't mean New Zealand sheep, honest. It's all pretty remarkable when you think it began with a random letter sent across an ocean in 1992 from a New Zealand gal looking for foreign pen-pals.
Happy anniversary
, sweetie!