Reviews: 39th Auckland International Film Festival
I spent a lot of the weekend cloaked in darkness watching images shimmering on screen at Auckland's most excellent
film festival
. It's great living in a city with such a world-class event – it was very hard to narrow down what to view out of more than 100 fantastic offerings, but here's a look at what I've seen: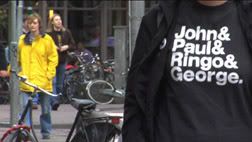 •
"Helvetica" (director, Gary Hustwit)
. A documentary about a typeface? Egads, you say. But this 80-minute feature on the world's most ubiquitous font (you see it everywhere from the Target logo to American Airlines' logo to most street signs) is fascinating work. Director Gary Hustwit started with a premise – why is one particular typeface so common in this modern world? – that spins into a sweeping discussion of typography design in general and what the shape of a letter can do to our mind. Helvetica, which is 50 years old in 2007, has become the script of city life. Besides giving us many montages showing how Helvetica is everywhere these days, Hustwit stuffs his film with interviews with a wonderfully eccentric crowd of type experts. Trust me, some of these guys are quite bizarre, such as the German who lustily denounces Helvetica or the avant-garde magazine designer who once laid out an article he disliked in the utterly illegible Zapf Dingbats font – and it saw print that way. There's a lot of humor in Hustwit's exploration of this insular but very influential world of design. The screening I was at seemed to be full of graphic designers or people involved somehow in the art of type. As someone who's worked in newspapers for over a decade and had my share of dealings with Helvetica I found this a really interesting movie, one that adeptly fulfills the documentarian's desire to show us a hidden facet of the everyday world. Hustwit himself was at the screening and gave an informative Q&A talk afterwards about how and why he did this film. It's a very "niche" appealing film I suppose, but I loved it, and can't wait to pick up the DVD.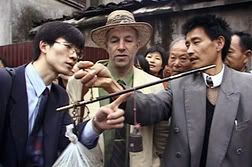 •
"All In This Tea" (director, Les Blank)
. How much do you know about the history of tea? I got offered a free ticket a friend couldn't use to this one, despite not being much of a tea drinker. And it certainly left me thirsty – a quite interesting, short documentary that follows
David Hoffman
, a Californian tea importer whose life is devoted to finding the best, purest Chinese oolong teas in remote parts of the countryside. Director Blank splices Hoffman's wanderings with a look at the meaning of tea, its growing popularity in America and what the differences are between organic tea and factory-farmed alternatives. It's a quite neat little film that is best when it focuses on the small details, such as Hoffman's penchant for sticking his nose into bags of tea leaves to gauge their quality. When it starts to speechify a bit on organic farming methods it becomes a little dull, but rallies nicely to become a meditation on quality of food in general. "All In This Tea" also features lots of lovely footage of the rural Chinese countryside and its people. Hoffman is a nicely charming lead character, a kind of capitalist hippie whose love for the "good tea" is infectious. The kind of small, spunky movie film festivals are made to showcase.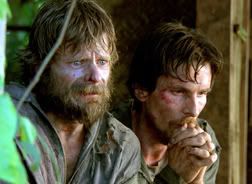 •
"Rescue Dawn" (director, Werner Herzog)
. This is the most "Hollywood" I've seen of German director Herzog's films ("Grizzly Man," "Fitzcarraldo," etc), but it's also a tremendously captivating war story, based on the true story of U.S. Navy pilot Dieter Dengler, who was shot down and captured in Laos in 1965.
Christian Bale
stars in a story of survival, as Dieter plans an escape from a prison in the heart of the jungle. Herzog's movies often feature man against nature in gritty scenarios, and "Rescue Dawn" is no different. It's on the conventional side, by Herzog's standards, but still spellbinding, particularly as Dieter spirals down into despair and faces impossible odds. Herzog makes the malevolent Asian jungle like another character in this film – you can taste the humid air, smell the fetid jungle scents. It's the small details that Herzog adds that give his distinctive tone to this movie – it could've been a Steven Spielberg movie, but instead it's something tense, heartbreaking and haunting. Bale is excellent, playing a can-do hero who has to confront his own limits, but even more dazzling is
Steve Zahn
as a fellower prisoner. Zahn is best known for kooky comedies like "Saving Silverman" or "Happy, Texas," but he is utterly fantastic here as a prisoner whose spirit has been nearly crushed. His intensity really should be remembered come Oscar time, and I hope it is.
Still to come:
"Control,"
the new biopic of
Joy Division
singer Ian Curtis, which I'll see later this week!