Concert review: Bob Dylan, Auckland, Aug. 11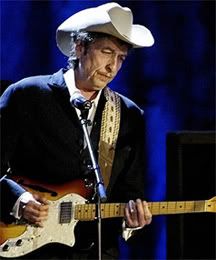 At 66 years old,
Bob Dylan
ought to be a little silly up there still playing "Blowing In The Wind." How many artists his age still seem really relevant? When was the last time a new Rolling Stones album blew you away?
But at his show last night in Auckland, Bob showed us, as he put it in a line from
"Spirit In the Water"
that drew big applause,
"You think I'm over the hill / You think I'm past my prime
Let me see what you got / We can have a whoppin' good time."
What a great fun show for the sold-out crowd of 10,000 people in Vector Arena. I had fantastic seats, just 30-40 meters from the stage. Bob tromped out on stage looking like a southern revivalist preacher, all clad in black and croaking in his authoritative reedy whine, which has just gotten more rutted and furrowed with the years (part of the fun of seeing Dylan live is seeing how long it takes you to figure out what song he's singing). He's backed by an outstanding band that's highly polished but never too showy, and Dylan himself takes turns on guitar and keyboard.
The only other time I saw Dylan live was in 1990 in Mississippi, and it was a disappointment to me, mostly because I barely knew who Dylan was and only had one of his greatest hits albums. His raggedy voice and terrible acoustics in the venue rendered most of his songs unlistenable and I didn't really get all the fuss.
Nearly 20 years on, I'm a converted Dylan fan and his quirks became endearing to me when I finally saw him live for a second time. His "never-ending tour" has been going on for years and one of the reasons Dylan can just keep playing his songs over and over is that he subtly reinvents them every night. They rarely sound the same way twice, apparently.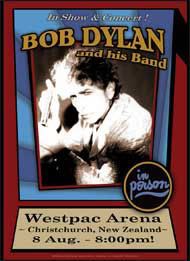 There were a lot of highlights in the set, and stuff from his excellent 2006 album
Modern Times
shone particularly brightly, especially a hushed
"Nettie Moore"
and a romping version of
"Rollin' And Tumblin'"
that sounded like Muddy Waters meets Robert Johnson. I loved a stretched-out, still-passionate
"Just Like A Woman"
and the stomping, nearly psychedelic take on
"Highway 61 Revisited."
His "Wonder Boys" soundtrack song
"Things Have Changed"
was an emotional high point (and the Academy Award he won for that tune was resting quietly on one of the amps). The epic
"Desolation Row"
was a real pleasure to hear live, too, even if some wanker who thought he was at a rugby match tried to rush the stage during it. The stark
"Masters of War"
received a hypnotic rendition, the stage all bathed in crimson light, and as an encore
"All Along The Watchtower"
had a fierce power to it. I was a little bummed by his
"Tangled Up In Blue,"
as one of my favorite Dylan lyrics got a rushed take that jumbled up the classic melody, and Dylan zipped through the intricate lines like an auctioneer.
If you were expecting lots of stage patter and Bob cracking Joan Baez jokes, don't bother – the only time he broke away from the music was to introduce the band on the second-to-last song. And that was cool – it kept the element of Bob the mystic, down here to entertain us mere mortals.
Set list,
courtesy of the most excellent web site
that features everything you wanted to know about Bob's tours:
1. Rainy Day Women #12 & 35
2. Don't Think Twice, It's All Right
3. Watching The River Flow
4. Just Like A Woman
5. Rollin' And Tumblin'
6. When The Deal Goes Down
7. Things Have Changed
8. Tangled Up In Blue
9. Spirit On The Water
10. Highway 61 Revisited
11. Desolation Row
12. Most Likely You Go Your Way (And I'll Go Mine)
13. Nettie Moore
14. Summer Days
15. Masters Of War
(encore)
16. Thunder On The Mountain
17. All Along The Watchtower