Book/music review: Rough Guide To The Blues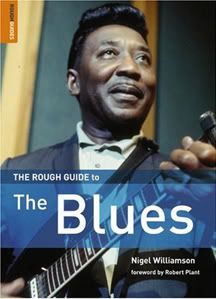 Everyone gets the blues. But for many of today's listeners, the blues might evoke a dreary, dusty sound that has little to do with modern times. That's a mistake – give them a chance, and you'll find that 70- or 80-year-old tunes by the likes of
Big Bill Broonzy
or
Blind Willie McTell
have an authentic human voice that can't be faked. Listen through the haze of years, and the roaring power of
Howlin' Wolf
or the deadpan swing of
Muddy Waters
still have the power to transport you. The blues reeks of history, but it's a past that's still very much alive and kicking. A new book and CD
Rough Guide To The Blues
is your ticket to delve into this world.
Nigel Williamson
, author of the excellent
Rough Guide To Bob Dylan
, has crafted a sweeping survey of the blues, from its earliest African roots right on up to young blues-inspired kids like Kenny Wayne Shepherd. Pretty much every blues name you can think of is included in this book, and a
companion CD compilation
provides a chance to hear the unforgettable sound of the blues at its best.
In a concise but information-filled 75 pages or so of introduction, Williamson takes a look at blues history, starting from its dark roots in the African slave trade, and moving through the years up to the 1960s when a blues revival added a critical ingredient to the new sound of rock 'n' roll. Along the way, Williamson looks at blues sub-genres like Mississippi Delta blues, slide guitar, zydeco, British blues and many more.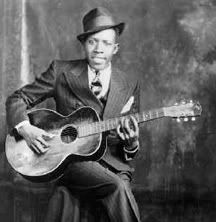 The meat of the book is an enormous A to Z encyclopedia of the blues, profiling dozens of famous and obscure musicians and labels from throughout the years, including many recommended playlists of tunes. You've got the big names given nice capsule biographies, like
Robert Johnson, Muddy Waters, Howlin' Wolf
and
Bessie Smith
, but equally as fascinating to me were the tales of forgotten bluesmen I'd never even heard of, like
Daddy Stovepipe, Bo Weavil Jackson
or
Speckled Red
. Some died young in knife fights or froze to death in the cold; some lived long into their 80s or 90s, long enough to get some of the acclaim they deserved.
In a move that might offend some blues purists, Williamson also includes a look at the legion of rock bands inspired by the blues, including the
Rolling Stones, Led Zeppelin
and
Captain Beefheart
. But in a clever gambit, Williamson looks at these acts entirely through the context of their blues roots rather than at their larger careers, showing us the wide reach the Delta sound has had in popular music.
In a work this size and scope there's bound to be a few mistakes, and some will likely be uncovered by readers with more background than I. (Williamson misidentifies Oxford's University of Mississippi once, I noted.) But on my casual read, I was amazed by the sheer breadth of information included in this tome. He also includes a handy list of blues resources, such as other books, movies, magazines and web sites.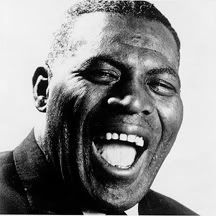 The companion CD of
The Rough Guide to the Blues,
compiled by Williamson as well, offers an excellent survey of the blues over the years. Obviously the hundreds of names in the book can't be included on one disc, but over 22 tracks Williamson takes us from the scratchy, mysterious early sounds of acts like
Mamie Smith
or
Charley Patton
all the way on up to the postmodern blues-techno hybrids of the late
R.L. Burnside
or the Mali-meets-blues sound of
Ali Farka Touré
. The spare and lonesome sound of those early acts explodes into the big-band showmanship of the later Chicago blues.
The big names are all included on this CD –
John Lee Hooker
's "Boom Boom,"
Arthur 'Big Boy' Crudup
's seminal "That's All Right" (which went on to be recorded by Elvis Presley, of course), Robert Johnson's
"Crossroads Blues."
In a nice move, arguably the two biggest stars of the blues, B.B. King and Muddy Waters, are represented by rarer live tracks rather than the familiar hits – the version of Waters'
"Mannish Boy"
included on here is particularly smokin', a call-and-response romp.
If you're unsure of where to start with the blues, or even an old hand in search of a refresher course, I can't imagine a better combination than sitting down to read
The Rough Guide To The Blues
while having the companion CD blasting out of your stereo system. Williamson has done an amazing job making this legendary music accessible and showing us some of its secrets, while still keeping the strange mystery that is the very core of the blues experience.