Music: the return of Crowded House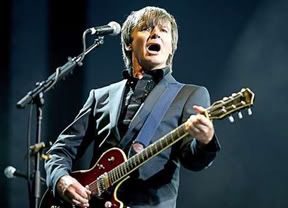 The first time I heard
Neil Finn's
voice was on a mix tape an old high school girlfriend made for me, nearly 20 years ago now. She put together a tape that was one half Finn's group
Crowded House
, one half Elton John. It was the Crowded House that stuck with me – a selection of tracks from the band's first few albums, songs like "Better Be Home Soon," "Something So Strong," "Into Temptation."
Long after I lost track of the girlfriend and our days together were just memories, I kept the tape, and the hopeful beauty of Finn's voice was always a comforting thing to summon up. Years later, I now live in Finn's homeland of New Zealand myself, and I have to admit Crowded House's music has long been one of the things I've identified this country with. Whenever I hear a classic Crowded House tune, I think young love, full of potential and peril. When he's firing on all cylinders, Finn is one of the better songwriters we've got.
Crowded House had a run through global fame in the late '80s and early '90s, but called it a day in 1996 when Finn embarked on a successful solo career. They left four fine albums, but hopes for a reunion of the original lineup were sadly dashed when drummer
Paul Hester
killed himself in a Sydney park in 2005. The death of Hester – an extroverted, mercurial character who apparently had some serious sadness beneath the smiles – was a terrific loss, but perhaps one point of light in it came the spark that led to the reunion of Crowded House for the first time in 14 years.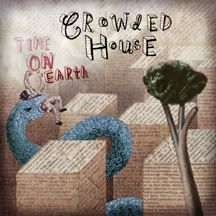 Finn had been working on a new solo album, but in the wake of Hester's death he asked founding Crowded House bass player
Nick Seymour
to join him. After recording the entire album, Finn decided it should be a Crowded House project. The duo went back into the studio with multi-instrumentalist
Mark Hart
, who performed on Crowded House's last two albums, and drummer
Matt Sherrod
, who's worked with Beck, to record four more songs. The result became
Time On Earth
, the first Crowded House record since 1993's
Together Alone
.
Whether intentionally or not, Hester's spirit haunts
Time On Earth
. "I think there's a lot of heart and spirit in the album which is connected with the loss of our dear friend Paul but also an attempt to try and make sense of it and move forward," Finn said in an interview for his record label. Loss and death are a constant in the lyrical imagery – angels, saints and heaven are recurring motifs. Thankfully, Finn has one of the finer voices in music to tackle this tricky territory – he's always managed to combine sentiment and soul without slipping into overwrought Michael Bolton realms.
Finn draws on famous friends – Smiths guitarist
Johnny Marr
pops up to play guitar on two tracks, including the buoyant first single, "Don't Stop Now," which marries a wistful chorus to Marr's distinctive guitar riffs. Marr also co-wrote "Even A Child," which may be the most upbeat track on
Time On Earth
, a jangle-pop guitar track married to Finn's urgent singing. Elsewhere, the tune "Silent House" was written by Finn with none other than the Dixie Chicks.
The album's beating heart seems to be in "Pour Le Monde," which could be Finn's ode to Hester ("He's the best that you ever had / he's so low you'll never know"). It's a grand, swelling track that combines heartbreak and hope with an anthemic touch. The welcome, jaunty "Transit Lounge" starts off combining airport random sounds with ambient tones in a way that brings to mind Brian Eno. Album closer "People Are Like Suns" is a kind of graceful benediction to the album's fears and dreams: "People are like suns / they are burning up tonight."
Is it like old times? Not precisely. Its peculiar genesis means
Time On Earth
doesn't quite "feel" like a Crowded House record. If anything it's far more similar to Finn's solo work, brittle and often melancholy, gorgeous and ruminative, but perhaps a bit lacking on the hooks. There's nothing along the lines of earlier Crowded House raucous rockers like "Knocked Out," for instance. Perhaps sensibly, Finn and co. haven't tried to pick up like it was 1993 – this is the work of an older man, who's been around the block a few more times since. Most of the songs on
Time On Earth
are slow builders, ones that reward repeat listening.
The thoughtful drift of
Time On Earth
lingers like the best of Finn's work, heavy of heart and hopeful despite the odds. This house is a welcome one to visit again.