Comics: James Kochalka's 'American Elf,' Vol. 2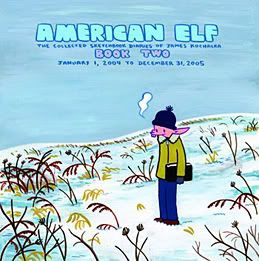 Lots of folks have a diary. But not a lot of people have a cartoon diary.
Vermont cartoonist, musician and all-around renaissance artist
James Kochalka
has been chronicling the ups and downs of his life online in his daily cartoon journal for more than eight years now on his Web site,
American Elf
. The result has been one of my must-reads for some time – drawn in Kochalka's simple, fluid and infinitely expressive style,
"American Elf"
is a testament to how much the comics medium can deal with in just three or four tiny panels. Hilariously funny, often raw, sometimes poetic, it's an amazing creation.
Collected in book form, the scope of "American Elf" is amazing. Kochalka's first collection, the hefty
American Elf Book 1,
packed together five years' worth of strips into one of my favorite graphic novel collections in a long time. The brand new second volume,
American Elf Volume 2,
isn't quite as large – only two years as opposed to five – but it is all in color this time out as opposed to black and white.
One of the pleasures of "American Elf" is watching a life as it unspools – at the start of the strip, Kochalka was working as a waiter at a Chinese restaurant, full of dreams of stardom. These days, he's got record deals, published dozens of books and even had dealings with Hollywood. He's a father to 4-year-old Eli, and a homeowner.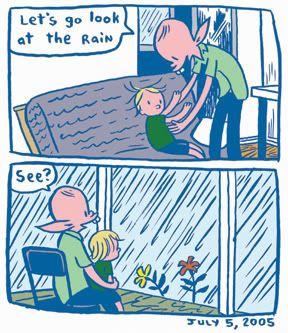 Kochalka channels the observant spirit of "Peanuts" creator Charles Schulz combined with an underground anything-goes spirit. There's no rules as to what he covers – a strip can be about a fight with his wife, something cute his kid said, or a random sketch of a day's detail, like a weirdly-shaped icicle or a piece of cheese on the ground. Read a huge bunch in one go and you start to see the world Kochalka's way. Everything looks a little more cartoony in real life.
In this volume, Kochalka and his wife Amy watch his son Eli grow from infant to toddler, he continues his sideline absurdist "rawk music" career, his cartooning becomes gradually more successful, and he battles his own insecurities and frustrations. It's just like everyday life – a lot of little moments adding up to something bigger and undefinable.
It could be said that "American Elf" is getting a bit formulaic as it enters its eighth year and beyond – it's a little less experimental than it was in its earlier days, more a collection of punchlines than of deep thoughts about life. But I don't really see it that way. If anything, I've grown to enjoy "American Elf" more in these later years, as Kochalka's recent adventures in fatherhood mirror my own life and I find myself smiling knowingly at the million strange and funny moments that a kid brings into your world.
Kochalka's art might be too twee for some – and read all in one go, "American Elf" can be kind of like downing six bowls of Cocoa Krispies in a single sitting – that's a lot of sugar to take in. "American Elf" is best dipped into a few pages at a time, absorbing the beauty and the goofy and the sadness that makes up everyday life, filtered through one cartoonist's unwavering eye.
I honestly believe that whenever Kochalka wraps up his daily strip for good (hopefully years from now), the sum total will be seen as one of the more life-affirming and epic graphic novels of our time. And there's not a single superhero in sight.