Day at the races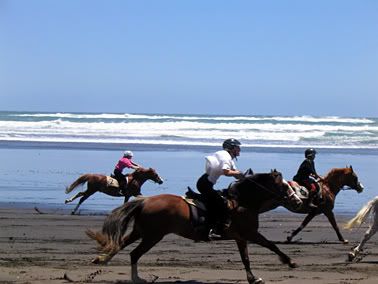 So yesterday we went out to the family beach house at
Karekare
for the annual beach races there. I've mentioned
Karekare
before, this gorgeous vast black sand beach surrounded by huge greenery-covered rocky mountain cliffs -- about 45 minutes from Auckland, it's where the opening scenes of Kiwi director Jane Campion's
"The Piano"
were filmed. Anyway, every year they have these big horse races which draw hundreds of people out to see them. It was that rarity for New Zealand, a crystal-clear cloudless sunny day (in December - still getting used to the temperature swap). Trying to take pictures of horses running by, I discovered horses can run a lot faster than I can manage to take a decent picture, but I got one shot (above) that I rather liked.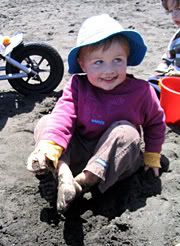 Peter
and his cousin played on the black sand beach for hours and hours, Peter getting sticky black sand in pretty much every orifice you could imagine.
Whereupon he wore himself out, passed out in the car on the drive back and spent the next
14 hours
out like a light. So in other words, it was pretty much a perfect day for all!