LIFE: If you're going to San Francisco...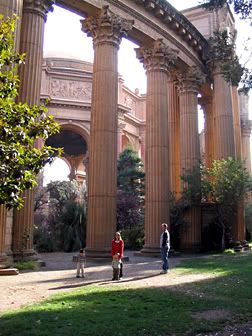 ...So, befitting our second-to-last weekend in America, we hightailed it down to scenic
San Francisco
this weekend to visit my old high school buddy John and his wife. As always, it was excellent to visit the City, which we used to head to all the time when we lived in California but have barely been to in the last five years since we had moved to Oregon. We hit the
Exploratorium
, SF's great interactive science museum where Peter was specifically encouraged to push as many buttons as possible, ate lunch in
Chinatown
, shopped for books in
North Beach
's
City Lights Books
, and saw the
Golden Gate Bridge
shrouded in fog, so I figure we satisfied our touristy needs. I love San Francisco, although I could never imagine living there (too pricey).
It was most excellent to catch up with my old pal
John
, whom I haven't seen much of the past 5 years other than occasional meetings on holidays. He's a super-successful San Francisco lawyer now (I mean, they can afford to have a HOUSE in the City!) and it's great to see him doing well.
I've been in this weird time-warp lately, ever since we left Oregon last month. I've had the good fortune to catch up with several friends from my high school days, some on our cross-country trek and meeting up with others up here in Nevada City. The Nevada Union class of 1990 seems a terribly long time ago now (close to 20 years, egad!), but somehow I've managed to keep up with the people who mattered most to me. We're grayer-haired, larger or balding or something, but mostly doing OK. I even had the surreal but truly terrific experience of seeing my old high school girlfriend and her family... I hadn't seen her in 16 years! It's excellent to find that you still have some commonalities and hints of friendship with people from so long ago in your life, that you haven't totally grown apart despite the years, even if you don't hang out every day.
I keep feeling a bit like I'm still in high school myself - unemployed, living with my parents at the moment, about to head off on a faraway odyssey... although this time, it's not college, it's emigration.
So I guess I'm getting ready to start the "new chapter" when we fly out to New Zealand a week from today, saying farewells to people I might not see for a very long time indeed. This week the final frenzied push begins. We're trying to sell the spunky Subaru before we go (cheap!), as well as some last-minute box shipping, freaking out, bill-paying and of course truly monumental packing for the plane flight (we're not only taking our full allotment of 6 suitcases and 3 carry-on bags, we're going to try to bring a few excess bags as well).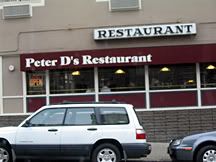 Of course, if it all goes badly in New Zealand, we can always come back to San Francisco, where it turns out Toddler Peter Dirga actually owns a
restaurant
there – I know, where does a 2 1/2-year-old find the
time
, I ask you?