...So where were we?
Last time around in my excavation
into my box of mix tapes of ye olden pre-iPod days, I looked at a tape from 1992. The thing about
mix tapes
is -- usually -- you made them fervently trying to impress some gal/guy you were all emo about. Usually, of course this didn't work and the tape ended up a monument to your own insanely overwrought passion of the moment. This tape from 1997 didn't end in tears, though - two years later I ended up marrying the recipient. Mix-tape score!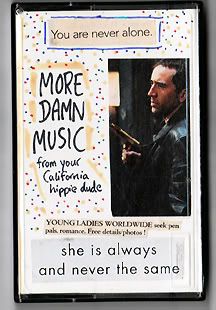 The tape: More Damn Music from your California Hippie Dude

Year created:
1997
Who it was for:
My future wife
Avril,
all the way over in New Zealand. Around this time, fall 1997 or so, I'd gone and abruptly moved away from Mississippi back to my native California, got a job at a tiny newspaper in the San Joaquin Valley, was living in a concrete bunker of a back-alley apartment with psychopath rednecks in the front unit, and in just a few months time Avril would get a green card and come from New Zealand to live with me. So a rather transitional time, in other words... I think this tape, one of many we exchanged back and forth across the Pacific Ocean, was a kind of long-distance reassurance and valentine if you will, in hopes that after many years living far, far apart we two might finally get to try out a proper relationship...
Track listing:

SIDE A
1. #1 Crush (Garbage)
2. Normal Like You (Everclear)
3. Amy [Amphetamine] (Everclear)
4. I Will Buy You A New Life (Everclear)
5. Boogie Chillin' (R.L. Burnside)
6. Heaven Beside You (Alice in Chains)
7. I Do Not Want This (Nine Inch Nails)
8. Sappy (Nirvana)
9. Mystifies Me (Son Volt)
10. I Turn Around (Elvis Costello)
11. Bloody '98 (Blue Mountain)
12. The Passion of Lovers (Bauhaus)
13. Sheet Kickers (Guided By Voices)
14. License to Confuse (Sebadoh)
15. Life Worth Living (Uncle Tupelo)
16. Talk Show Host (Radiohead)

SIDE B
1. Fire Maple Song (Everclear)
2. Glycerine (Bush)
3. Devil's Haircut (Beck)
4. My Son Cool (Guided by Voices)
5. Motor Away (Guided by Voices)
6. My Valuable Hunting Knife (Guided by Voices)
7. Positive Bleeding (Urge Overkill)
8. What Goes On (Velvet Underground)
9. Try (Michael Penn)
10. Chottie See (Nusrat Fateh Ali Khan)
11. Who You Are (Pearl Jam)
12. Find The River (R.E.M.)
13. Something's Out There (Freedy Johnston)
14. Feel So Different (Sinéad O'Connor)
15. Short on Posters (Guided By Voices)
What this says about my musical tastes at the time:
It was the waning days of grunge, and I was mightily into
Everclear
and
Guided By Voices
judging from the four Everclear and five (!) GBV songs I included. The music of your late college years is pretty much the music you will always love, and very little here embarrasses me overly 14 years on.* Neither Everclear nor Guided by Voices have ever really equalled their mid-1990s peak, though.
What was I thinking?
*OK, well, except for the
Bush
song -- the bargain-rate version of Nirvana, they were pretty lame even when they were cool for about 10 nanoseconds. If you couldn't find Nirvana, couldn't find Stone Temple Pilots, you got these guys.
This song could totally be taken the wrong way:
"He'll keep you in a jar / And you'll think you're happy" - Nirvana.
Aw, that's sweet:
"Why must it always be the less I see of you, the more I care?" - Elvis Costello
Clever left-field choices:
There are some more obscure acts here -- I always have loved alt-rock also-rans
Urge Overkill
, who I think were very underrated, and
Michael Penn
continues to be one of the most unfairly ignored singer/songwriters out there.
Totally obvious choice:
Well, like I said, it was the age of grunge. I might as well have made the tape case out of flannel, this is such a totally 1997 sort of production.